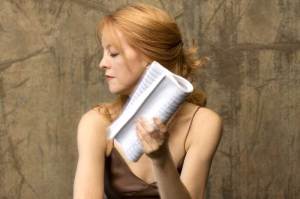 The Maria Schneider Orchestra's Thanksgiving week residency at the Jazz Standard, which starts on Nov. 24, has become one of those things: an Annual Event. Before the club opens each night, a long line will snake along the wall on the sidewalk, speaking as reverently about the headliner of the evening as a crush of hipsters waiting for a Todd P show in Bushwick.
Once the doors open and Ms. Schneider's admirers are seated and served drinks, the scene unfolds. The 21 members of her ensemble drift in. The bandleader-composer employs some of the best jazz musicians in New York, many of whom have become stars in their own right because of their association with her. Why, there's Ingrid Jensen, the beanpole of a trumpeter, who who is known for her lyrical playing. Here comes Donny McCaslin, the tenor saxophonist with the high forehead of a Protestant minster, who can always be counted on blow the lights out.
There may be celebrities from outside the jazz world in the house, too. Two years ago, I spotted David Bowie looking princely where he sat in the back of the room with his wife, Iman, on opening night. David Byrne and Simon Rattle, conductor of the Berlin Philharmonic, have stopped by to see what the fuss was about.
Then Ms. Schneider arrives and instantly transforms the basement jazz club into her living room. She turns 49 on Nov. 27. But she is still girlish and radiant in a black sleeveless dress. She tries to make her way to the stage only to be stopped by fans. Some of them have underwritten the production costs of her last two albums though contributions to her Web site. Others probably feel they know her from watching the video clips there might be bundled up and sold someday on DVD as the Maria Schneider Reality Show if her popularity continues to surge at its present rate.
She reaches her destination and waves her arms. The audience is bathed in warm and seductive music. What Ms. Schneider composes is unquestionably jazz. But there is a lot of Maurice Ravel in there, a lot of flamenco and Brazilian music. She loves Jimmy Webb's soaring anthems for the Fifth Dimension, like "Up, Up and Away." It makes sense. She, too, wants to transport her audience. That's why Ms. Schneider has become a phenomenon.
There is nothing like hearing her orchestra at the Jazz Standard, where she has recorded an excellent live album and where she has held forth on Thanksgiving Week for the past five years.
"It's really fun," Ms. Schneider said in a recent interview at her Upper West Side apartment. "It's almost become a social occasion. It's like a reunion or something at this point. I'm always sorry when it's over. Last year, they talked about having us do it for two weeks, but that might be a bit much. It might lose some of its freshness."
On this particular morning, Ms. Schneider was composing. She was dressed appropriately in a gray fleece top, black sweatpants and white sneaks. There was sheet music on her upright piano and more on the work table nearby. She recently did something new; she asked her fans on the Internet to commission four new works. A guy in France immediately snapped them all up.
Now Ms. Schneider had to deliver. She hoped to premier one at the Standard. But it hadn't been going very well. "Hopefully, it will go O.K.," Ms. Schneider said nervously. "It has some problems."
Most jazz musicians—well, okay, male jazz musicians in particular—wouldn't admit such fear on the eve of an important gig. But Mr. Schneider isn't the bashful sort. She single-highhandedly rejuvenated the big-band genre, which fell into self-parody in the '70s.
"You know, I got sick of big-band cliches," Ms. Schneider said. "I found it to be not a very expressive idiom. Yet I loved my group, my players. So what I tried to do was figure out how to put more air and space into the thing and figure out how to create lightness and a variety of textures and sounds. I wanted to drop the template that had been branded into our brains, not only about big band but about jazz."
Darcy James Argues, the 34-year-old big-band leader and one of her spiritual heirs, said the impact of Mr. Schneider's work on his generation of composers was incalculable.
"I always say that Maria's first record, Evanescence, is comparable in impact to The Velvet Underground and Nico—everyone who heard it started a big band," Mr. Argue said in an email. "And it wasn't just that her debut sounded different from most big band records—it sounded unlike anything happening in jazz at the time."
Ms. Schneider was also one of the first jazz musicians to harness the power of the Internet. She signed up early on with ArtistShare, the company that came up with an innovative idea to enable jazz players to fund their work through fan donations. Her first ArtistShare release, Concert in the Garden, won a Grammy Award for best big-band jazz album in 2005. It was the first album sold exclusively on the Internet to win the award.
What's more, Ms. Schneider has forged a deep bond with her fans through her Web site. She has discovered that they don't particularly want MP3s or streams of her music. They want CDs with extensive liner notes and sumptuous photographs of Ms. Schneider at work. In short, they want as much of Ms. Schneider as she is willing to give.
The bandleader is more generous with herself than the average jazz musician would be. If you buy her records, you get access to videos of her rehearsals and recording sessions with all their embarrassing flubs. There is even a photo in which Ms. Schneider can be seen cleaning her toilet to avoid composing. One can hardly imagine Miles Davis sharing such an intimate moment. You start to wonder: Does this woman have a private life?
"I make a large part of my living now through that Web site," Mr. Schneider explained. "Yeah, it's work and it should be. I don't want to just take people's money and say, 'Oh, help me make my music because my music is good.' No, people should get something in return. They should get a high-quality documentation of my humiliation."
It was a good line. We both laughed. "You better at least say that I started laughing after I said that," the composer pleaded.
Somehow, it isn't as embarrassing to watch Ms. Schneider clean the john as you might think. She is a perfect realty show protagonist: the amiable woman from a small town in Minnesota who is terrified when she must present a new piece to her band. This is as challenging as anything anybody does on Project Runway or Ace of Cakes. You want to root for her.
Ms. Schneider knows we are out there cheering.
"I liken it to be being a runner in a race," she said. "You feel all these people by the side of the road. You don't know who they are, but they are going, 'Yeah, go, go-go-go!' People are encouraging you, but they are also expecting something. I don't want to disappoint anybody. It raises the bar for me."