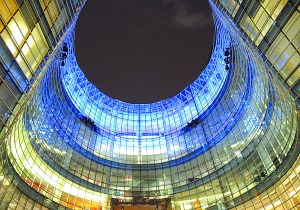 Sirio Maccioni, the legendary Le Cirque owner, needed a new location for his restaurant. He asked Henry Kissinger, a regular customer, for advice. The Bloomberg Tower, Dr. Kissinger answered. Le Cirque moved there in 2006.
Such is the deserved luck of the ballyhooed tower at 731 Lexington Avenue-half-luxury condo, as One Beacon Court (owners have included, among others, Johnny Damon of the world champion Yankees, and Beyoncé), and half-office building, as the Bloomberg Tower. The mayor's media concern, Bloomberg LP, rents 885,000 feet on the bottom 31 floors of the 54-story tower. It is the sole office tenant; there's not even any sublease space available in this, the worst office-leasing market since at least the early 1990s.
In 2004, the area surrounding the Bloomberg Tower, especially on the Third Avenue side, was not exactly an upmarket area, as it has increasingly become since the tower's debut more than three years ago. Its developer, Steve Roth's Vornado Realty Trust, filled the surrounding neighborhood with sleek new retail space that it purchased during the tower's construction, and it now owns the block on the south side of 58th Street, and the retail on either side of Lexington-home to tenants such as Zales Diamonds and the salon Phyto. But the sine qua non of the building is definitely Bloomberg.
The mayor's secretive company locks in the tower's lucrative identity and provides the consumers for the surrounding retail-a sort of chicken-or-the-egg symbiosis. Those who have toured Bloomberg LP's custom-built space, designed in an open layout by Studios Architecture, around a huge circular escalator, are in awe of it. New Yorker architecture critic Paul Goldberger described it as "a newsroom truly designed for the electronic age … a dazzling work environment tucked inside a refined but conventional skyscraper."
The HBO documentary Le Cirque: A Table in Heaven follows Mr. Maccioni's decision to move his definitively upscale French restaurant to the tower in order to give it a more contemporary feel and a more relevant address. The celebrated restaurant now looks out of 27-foot glass windows onto Beacon Court.
SEVEN-THIRTY-ONE LEXINGTON used to be the flagship site of Alexander's department store, once a local Bloomingdale's rival. The last Alexander's to close, the store shut its doors in 1992. Alexander's Inc., a REIT that now leases and develops the sites of the former stores, owns the building in a partnership with Vornado, which retains a 33 percent stake in the tower.