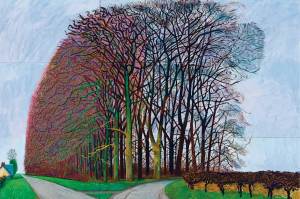 At the age of 72, the artist David Hockney has few living competitors for the public's affection. Mr. Hockney's is a household name in England, where he is by common consent the nation's most popular artist, but also in American households, at least the ones with a Matisse poster hanging in the kitchen. More than any other contemporary figurative painter, Mr. Hockney has spent his career speaking directly about visual pleasure and the things people like in art, like radiance and wit.
To doubt Mr. Hockney as a lightweight (and some critics do) is to doubt the value of stylishness and spiritual ease in art—not ecstasy, exactly, but brightness conveyed in the artist's delectable line and catchall of quotation. It's why "David Hockney: Painting 2006-09," a two-venue show of the artist's foray into landscape painting, keeps packing in the crowds at PaceWildenstein's midtown and Chelsea galleries.
The show, which runs through Dec. 24, is advertised as a return to oil painting. Aside from his inclusion in the 2004 Whitney Biennial beside some slackly languorous work by Elizabeth Peyton, Mr. Hockney's has not been seen much in recent years. In 2005, he decamped from his longtime home in Los Angeles to Bridlington, a summer resort town in East Yorkshire, England, not far from where he grew up. There the artist began painting pictures of the countryside, of all things: plain air scenes of effulgent foliage and bloblike trees under bluebird skies, reportedly at a rate of two to three canvases a day.
The paintings seem very English, going back to Constable and the countryside visions of the lesser-known 19th-century Romantic Samuel Palmer. Mr. Hockney's drawing on diverse sources here.
The landscapes are the latest act in a 40-year career that has been full of acts. In an otherwise affectionate catalog essay, Lawrence Weschler, a friend of the artist who happens to be the director of the New York Institute for the Humanities at New York University writes, "It was as if, after over twenty years of myriad wanderings, he'd found a figurative (non-abstract) way to clean past the monocular optical vise."
Mr. Weschler may be onto something here. There is a widely felt sense that, for all his talent and energy, Mr. Hockney's work fell off sometime in the late '70s.
Mr. Hockney's first act is still the one we keep coming back to, the moment in 1964 when the already successful painter bleached his hair blond and left England for Los Angeles. Early on, Mr. Hockney was loosely associated with Pop, but his evocations of Southern California, the pools and the pool boys, were unshadowed in a way Pop was not. (The seasonless azure sky of A Bigger Splash (1967) is still the all-time great advertisement for California living.) Then there were the portraits: of friends, family and (male) lovers. If his openness in presenting his own gay love life is not to be considered rebellious, then there was little else in his arsenal to support a revolt, a source some critics may say of his popularity; but that is unfair, because his paintings of this era deserved to be popular.
And anyway, by the late '70s, Mr. Hockney had detoured in a half-dozen directions: theater sets and costume design, where the artist showed himself to be a virtuoso; photography, where he did not; and farragoes into Cubist collage, Chinese philosophy and "fax" drawings, as well as the artist's crazily overpublicized theory that from the Renaissance onward, artists used optical devices to paint in perfect one-point perspective. In hindsight, Mr. Hockney's interests could also be seen as an extended riff on the difficulty of fixing sight in a three-dimensional world, as if the artist had figured out that reality was, in the end, overdressed. Today, Mr. Hockney sends pictures to friends on his iPhone. He also paints portraits on a Wacom tablet, before running them through Photoshop. (A selection is included at Pace Prints.)
Which brings us to the landscapes. They are as pleasurable as you'd expect, gorgeous without being great. The twinkling surface of a work like May Blossom on the Roman Road (2009) addresses itself purely to the eye. Mr. Hockney is in a woozy, bee-loud season these days, saturated in color: deep purples, greens and pinks. The broken, brushed upon energy of Hawthorn Blossom, Woldgate No. 6 (2009) and a dozen of the smaller pictures remain stylistic feats of speed, conveying engagement in broken brush stroke surfaces and compositions the vigor of which isn't always immediately apparent at the first look.
The big production paintings, like Winter Timber (2008)—actually many separate canvases fitted together in postproduction—are stagy, and you may tire of its empurpled sweetness. That said, Winter Timber drew audible wonderment from gallery-goers at a recent visit, and the gallery was full.
It may be better to believe that when a major artist engages a large audience, there is evidence that something perfect or profound has been made. But the glory of Mr. Hockney and his shortcomings are all part of the same package: unconfounding delight.