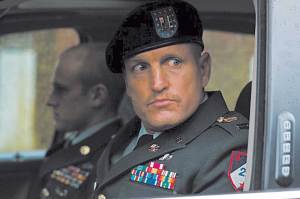 The Messenger
Running time 105 minutes
Written by Alessandro Camon and Oren Moverman
Directed by Oren Moverman
Starring Ben Foster, Jena Malone, Woody Harrelson, Samantha Morton
The box office has not smiled on movies about the Middle East conflicts or the men who fight them. Stop-Loss, Grace Is Gone, The Lucky Ones, In the Valley of Elah, Home of the Brave, Redacted, Rendition, Lions for Lambs, Body of Lies … they all tanked.
Now comes The Messenger, a sensitive and intelligently considered movie that marks the directorial debut of Oren Moverman, who wrote the abominable, lunatic bore about Bob Dylan, I'm Not There. This one is infinitely superior, but whether it connects with audiences remains to be seen. It would be a shame if it didn't, because at its center lie three accomplished performances, by Ben Foster, Woody Harrelson and Samantha Morton, that are not to be missed.
It begins with a close-up of eyedrops squirted into a soldier's eyes like rainwater splashing against vinyl. The eyes belong to Will Montgomery (Foster), an Army staff sergeant who has been sent home with damaged eyesight and decorated as a war hero. With only three months left to serve before his tour of duty ends, he's anxious to get his life back on track and finish his time in peace, until he reluctantly finds himself assigned the unpleasant task of notifying the families and loved ones of soldiers who are dead, wounded or missing in action. Simultaneously following orders and searching for ways to heal his own physical and psychological wounds proves to be daunting, depressing and hazardous. He has no religion nor grief-counseling experience, and he finds it a hateful job, made worse by his partner on the mission, Captain Tony Stone (a good, calloused performance by Mr. Harrelson), an older-generation veteran with a lifetime military commitment who is also a reformed drunk, married three times, cynical and tough as rawhide. His rules: Avoid contact with the next of kin, and eschew feelings of any kind—no tears, grief or hugs. Will tries to follow his fellow officer's example, and Stone tries to leaven the hopelessness of the job with salty humor. Upon leaving one house, where he's been slapped, cursed, yelled at and spit on, he tells Will: "It could be worse—it could be Christmas."
Despised by the parents of boys younger than he is, Will grows despondent. Then on one call, they inform a woman named Olivia (Ms. Morton) that her husband, and the father of her son, has been killed. Unlike the others, who vomit, scream and threaten violence, she takes the news calmly, with a sadness for the messenger, and an unethical friendship evolves that leads to hope for a more personal relationship in the future. There isn't much more of a story than that, but every character shows the effects of battle fatigue, in the trenches and on the home front. The actors are quietly effective as they show the different ways they've been shaped by the losing consequences of war. Mr. Foster is especially effective as a once cocky kid turned sober adult before his time. Hairy, tattooed and hard as granite, in a role unlike the usual youthful wackos he's played, in X-Men, 3:10 to Yuma and on the HBO series Six Feet Under, he's the riveting centerpiece and a total revelation.
The movie itself includes a few regrettable stock war-movie clichés (brawling, womanizing, whiskey-induced vomiting, punching in the wall, remembering dead buddies through tear-soaked eyes), and there is an occasional line that rings false, such as the gentle widow confiding that her late husband's shirt smelled of "fear and rage." But mostly The Messenger is a compelling adult film that draws us closer to the characters, scene by scene, as they try to make sense of the war they've left behind and the indifference of civilians to what they endured there—and why they were sent there in the first place.
rreed@observer.com