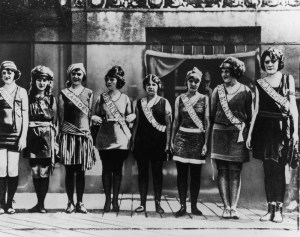 Williamsburg's City Reliquary–which Katharine Jose recently explored for The Observer–is sponsoring the inaugural Miss G Train Pageant, timed to coordinate with its exhibit on "Miss Subways, Past and Present." The G Train, the Brooklyn Eagle explains, "is charmed and maligned, adored by some and loathed by others, and never goes express." It's also only four cars long and does not enter Manhattan, travelling instead in a leisurely zigzag through Brooklyn and Queens.
Pageant details, from the Eagle:
The pageant will be open to New Yorkers of all ages and genders. To enter, please submit a photograph of yourself, along with a 200-word essay about the G train and why you wish to be its ambassador.

Send your entry and photograph to missgtrain@cityreliquary.org by Nov. 13. On Nov. 19, all participants will participate in the pageant, to be held at the City Reliquary, from 8 to 10 p.m., complete with sashes and celebrity judges.
Reclaiming beauty pageants in a crazy gender-theory-savvy way is fine. But reclaiming the G train as a Brooklyn symbol might be too much to ask.