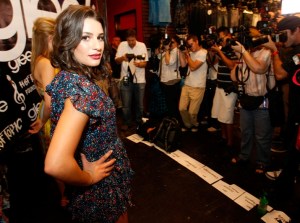 For the most obvious news of the fall, allow us to direct you to a recent Los Angeles Times article about dwindling television ratings. As it turns out, people aren't watching TV like they used to, unless it falls under the moniker of the NCIS franchise (how did that happen?).
That Glee is arguably a hit, then, is all the more surprising. The Fox series—which combines elements of High School Musical, American Idol, Election and Rock Band—feels about as suited for success, as its flamboyantly gay character, Kurt Hummel, is suited for playing football. And yet both things have happened during this first season: Glee's a solid-performing phenomenon, and Kurt led the football team in a choreographed dance to Beyonce's "Single Ladies."
Last week's episode, "Wheels," was touted as a game changer by creator Ryan Murphy, because, for the first time, Glee added a layer of humanity to its characters. It was the type of episode necessary to keep the show from falling into flash-in-the-pan status. But there is still more work to be done! Here are some helpful suggestions to keep Glee in it for the long haul; or, at least until everyone graduates high school.
More Kurt singing…
If there is a breakout character among the misfits of Glee—one that isn't named Sue Sylvester and played by the inimitable Jane Lynch—it's the aforementioned Kurt. As played by newcomer Chris Colfer, Kurt has been put through the emotional ringer during season one: he's had to come out of the closet to his father, parry away the gay slurs of classmates, partake in ridiculous musical numbers (see: "Single Ladies") and even showcase honest-to-goodness singing talent (see: his performance of "Defying Gravity"). The more solos he's given in the future, the better.
…but less Mr. Schu rapping!
We're not sure who ever thought having a 30-year-old white guy routinely perform rap songs was a good idea, but we can assure you it is not. Mr. Shuster, the glee club leader, is charming enough (and thanks to Matthew Morrison, is blessed with a great voice), but why all the rapping? It's like nails on chalkboard. Please, never again.
More mash-ups…
From what we've been lead to believe, glee club acapella groups love performing mash-ups of popular songs, but thus far on Glee we've only been treated to two (Bon Jovi's "It's My Life"/Usher's "Confession, Pt. II" and Beyonce's "Halo"/Katrina and the Waves' "Walking on Sunshine"). And, wouldn't you know it, they were both been performance highlights. The joy of Glee is in its ability to take songs and show them off in a different light; without mash-ups and remixes, it risks becoming karaoke.
…but less auto-tune and production!
Albeit it karaoke with the sheen of a T-Pain song. Must every number on Glee be over-produced to the point of suffocation? Just once, we'd love to hear a song filled with the natural din of room sound and not the perfect stillness of a recording studio. Glee would do well to take a cue from Jay-Z: no more auto-tune!
More Quinn, the manipulating Queen Bee…
Every show needs a good adversary, and while Glee had originally set up Sue Sylvester to fill that role, Ms. Lynch's towering-cum-hilarious performance has made her a fan favorite. But what of Quinn Fabray (Dianna Argon)? The former cheerleader is so unappealing that whenever she's on screen we're hoping for a stray meteor to fall on her head. She's fantastically awful! Embrace the dark side and keep Quinn away from anything that requires her to smile, play nice or, heaven help us, sing.
…but less Terri, the shrill wife!
On the flipside of Quinn, there's Jessalyn Gilsig as Will's pregnancy-faking wife, Terri. We assume she's supposed to be someone audiences love-to-hate, but in reality, we just hate her. Her entire plotline is contrived and annoying and if her character didn't exist, Glee would immediately be three times better. Mr. Murphy, get ready for a course correction. Might we remind you of our favorite deus ex machina, the stray meteor?