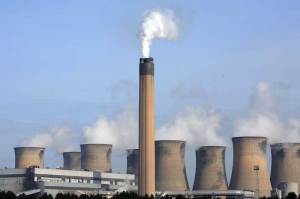 As the nations of the world prepare to meet in Denmark in December, there is some well publicized noise being emitted to lower expectations for a climate treaty. The United States and China-the two largest emitters of greenhouse gasses (over 40% of the world's pollutant load)-appear to be at the center of this effort at political agenda setting. They are trying to lower expectations so that any progress at all can be presented as a major victory. While politics often denies and defies logic, I think that we are going to see some real action in Copenhagen. The pressure and momentum from the public, the media and other non-governmental players in Copenhagen in December will be enormous. While it is true that it may be too late to develop and sign a global climate treaty, it is way too late to do nothing. When the government folks arrive, they will find themselves in the center of a media onslaught.
There are two motors behind the emerging climate policy. The first is the actual danger posed by global warming. The second is the rising cost and uncertain supply of fossil fuels. The transition to a renewable energy base is not a luxury item; it is essential to our economic well being. The side effect of a renewable energy base is a reduction of greenhouse gasses. Regulation of carbon dioxide will stimulate and hasten the transition to a green energy economy. It will also promote more efficient use of all forms of energy, even fossil fuels.
In his November 17th column in the New York Times, David Leonhardt discussed "cash for caulkers", a proposed stimulus program to promote weatherization in private homes. Leonhardt concluded that while
"… cash for caulkers would be trickier than cash for clunkers … [it] would have the potential to do far more good. McKinsey, the consulting firm, estimates that households could reduce their energy use by 28 percent over the next decade. In terms of greenhouse gases, that would be the equivalent of taking half of all vehicles in this country off the road…Done right, cash for caulkers would be precisely the kind of stimulus that makes the most sense: spending money now to save money later."
It makes good economic sense to use less energy to get the same benefit. This is true in appliances, homes, autos and every place else we use energy. However, the argument is often made that fossil fuels are cheaper than renewables and so the move away from fossil fuels will increase costs and reduce economic well being. However, as I and many others have frequently observed, the era of cheap, easily accessible and abundant fossil fuels will not last forever. The price spikes and political battles over drilling are warning signals of the uncertain future of fossil fuels. Eventually, capital will move away from uncertainty and the risks of fossil fuels toward energy sources that are more susceptible to cost reduction through application of new technology. While today renewables are far riskier than fossil fuels, this is not a trend that will last forever.
In the globally interconnected economic competition we all work within, the future will belong to those nations that learn to deliver energy with the least economic and environmental cost. This competition requires companies to look to cut costs on materials, labor, production processes, waste management, transportation and energy. These trends will continue with or without a climate treaty.
But the climate treaty and a climate law in the U.S. will provide a strong signal to the public and to business leaders that governments will push the move to a green energy economy. In the case of the Obama Administration, the failure to produce such change endangers the fragile political coalition that brought it to office. The Copenhagen conference should be seen as a giant two-week long media event pushing climate policy. It will be the climate change Olympics. President Obama and his fellow world leaders will not be able to drive this issue off of the agenda no matter how hard they try to reduce expectations.
Moreover, it is in President Obama's political interest to ride this media wave and encourage it to build. The predictable aftermath of Copenhagen will be a rise in understanding of the climate problem and support for change policy at the national and international level. As the mid-term elections approach and the Democrats continue to sink in the polls, they will need tangible results, or at a minimum a well fought loss, to energize the first time voters that made the difference in 2008. During his presidential candidacy, Obama made hope a principle, and when questioned about the feasibility of fundamental political change, responded "yes we can." Many of us continue to hope that we can and we will.
I have argued that the Democrats need three successes to have any chance of maintaining control of Congress in 2010: 1. Economic revival; 2.Health care reform, and; 3. Climate change and energy policy. However, in addition to making progress in all of those areas, they need to link the three together in a convincing message that the change we were promised is well underway. If the main message out of Copenhagen is that the United States temporized and retreated, the Democrats will have deep problems motivating 2008's first time voters to the polls. In that election Obama was the choice of 69% of first time voters. At a minimum, the President needs to go to Copenhagen and clearly articulate his own policies on climate change. In my view, going to Copenhagen is less risky for him than staying away.