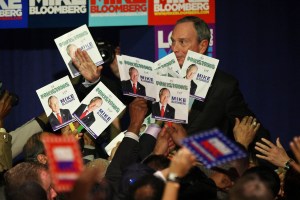 There's a very slight consolation for the Democrats in last night's election returns.
Even though the Democrats lost the mayor's office for the fifth straight election–locking them out of Gracie Mansion for a full 20 years now–their candidate did get more votes than the Republican candidate, in a sense.
As Azi Paybarah points out, Mr. Thompson got 479,521 votes on the Democratic line, to Mr. Bloomberg's 414,242 on the Republican line.
What put Mr. Bloomberg over the top were the 142, 817 votes he snagged on the Independence Party line. (Mr. Thompson got only 27,196 votes from the Working Families Party, his largest third-party backer.)
To get on the Independence Line–which provided a refuge for disloyal Democrats who couldn't bring themselves to vote Republican–Mr. Bloomberg promised the party that he would push for nonpartisan elections, and that–naturally–he would pay his own pay to promote himself as their candidate.
It's unclear exactly how he'll make good on the promise about nonpartisan elections, except to maybe float the idea before a charter commission. In a city so overwhelmingly Democratic, it seems unlikely to fly very far, or require much of the mayor's political capital, so the mayor seems to have gotten himself quite a deal.