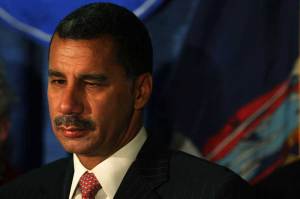 ALBANY—Next Thursday, Sally Minard will commit an act of political courage.
Ms. Minard, a strong presence on the Democratic donor circuit in New York and a supporter of Hillary Clinton and the DNC, will host a breakfast at her Upper East Side house in honor of David Paterson. It shouldn't be courageous for a Democratic donor to fete the incumbent Democratic governor. But given Mr. Paterson's current political standing—his job approval is less than 25 percent, and he faces a $3.2 billion midyear budget deficit—few are willing to stand by him. Those who do will likely be there until what some of them publicly acknowledge is likely to be a suboptimal end.
"They asked me," Ms. Minard told The Observer. "He's my governor, and there's nobody else running at the moment, and he's been a great supporter of projects, and I've been a supporter of his for a while."
Ms. Minard is part of the increasingly small group of influential Democratic officials, operatives and activists who might be called loyalists, or dead-enders, or both.
"I'm a big fan of his. I like him very much, and I certainly recognize his difficulties," she said. The event will feature the first lady, Michelle Paige Paterson, and seeks donations of $250 per attendee, the number of which Ms. Minard would not specify. "I'm delighted to host David. I think he's a very fine person, and I wish him well. I'm happy to host for him."
D-Day for Mr. Paterson, the latest one, at least, is now recognized to be Jan. 15—the day the State Board of Elections findings for the last six month fund-raising period are due. Mr. Paterson's tacit rival for the governorship, Attorney General Andrew Cuomo, has four fund-raisers on staff and is raising money at a steady clip, sources familiar with his efforts say. (Mr. Cuomo has said repeatedly that his only political plan "at this time" is to run for reelection as attorney general. He outraised Mr. Paterson by a margin of two to one in the last filing period.)
Mr. Paterson's circle of supporters includes old acquaintances like Ms. Minard and State Senator Eric Schneiderman, as well as the scions of the Harlem political establishment he comes from: Assemblyman Keith Wright (who is also the Manhattan Democratic leader), Representative Charlie Rangel and Carl McCall, the former comptroller who won in a gubernatorial primary against Andrew Cuomo in 2002. Representative Greg Meeks of Queens and Assemblyman Darryl Towns of Brooklyn, both personal friends of Mr. Paterson, also stand with him.
Charlie King, the former executive director of the National Action Network, is still making fund-raising calls on behalf of Mr. Paterson and won't work for Cuomo.
Bill Lynch, the political consultant, said he'll be with Mr. Paterson "to the bitter end."
'I like him very much, and I certainly recognize his difficulties.'—Sally Minard
"Because we're a year out, and folks are really not focused on his record so far as governor—it's unbelievable what's gone on. I've been with him for 30 years; I'm going to stay with him until the end," Mr. Lynch said. "It's not just because he's a friend. That's one reason. The other reason is, I think he's done a good job and he's not getting credit for it."
But far more numerous are the fair-weather supporters and donors who will not publicly denounce Mr. Paterson because he remains, after all, the governor.
One Democratic bundler explained the prevailing Paterson dynamic this way: "He should do reasonably well in the next month, simply because they're going to put on a full-court press, and there are people with business with the state who say, 'Can I afford to offend him?'"
"The governor's a friend, and you don't walk away from a friend just because you're down in the polls," said Ryan Karben, a lobbyist and former assemblyman. And is he giving money to Cuomo? "Oh, of course. They're both great public officials, they're both friends. Obviously, the governor's political challenges are no secret, and that affects the fund-raising climate, but the governor's a friend, and you can't measure friendships solely in election cycles."
Ms. Minard said Mr. Cuomo was "doing an excellent job as an attorney general." Asked if she would hold an event for him, she replied, "I plan them one at a time."
"For some, there's a personal connection, and everyone wants to see our first black governor be successful," Assemblyman Michael Benjamin, a Bronx Democrat who has urged Mr. Paterson not to run, said of those supporting the governor. "You're still, at the end of the day, a member of government. You want your governor to be successful so your state can be successful. I think that's why people will stick with him in public, until he makes official whatever he makes official, either that he's going to run all the way or he's going to walk away in due course."
A problematic narrative—Mr. Paterson was not elected to his position and has not always risen to its challenges—was cited by several donors as a problem. It has also not helped that the only public message Mr. Paterson is capable of promulgating that resonates even slightly with the public—that their legislators are acting irresponsibly, and are letting the state down—is one expressly designed to drive his remaining sympathizers in government away from him.
Hence, on Nov. 9, when Mr. Paterson called a rare joint session of the Legislature to lecture lawmakers on just how pressing the state's fiscal problems were, he was very palpably alone.
He arrived late for the address, and walked to the rostrum without shaking hands with Comptroller Tom DiNapoli, Assembly Speaker Sheldon Silver, Senate Democratic Leader John Sampson or Lieutenant Governor Richard Ravitch. (Mr. Cuomo declined an invitation to the speech, citing what an aide described as a "scheduling conflict" that was neither readily apparent nor elaborated upon.)
"Frankly, we are running out of money," Mr. Paterson said. "At this moment, all of us assembled in this chamber stand as the last defense between our state gong into a downward economic spiral that threatens to engulf generations of future New Yorkers. We cannot, we must not risk the future of our children and our children's children to borrow money we don't have."
The legislators sat stoically, and Mr. Paterson's coterie of aides lingered out of sight behind the podium.
"I realize that I will not be able to do it alone," Mr. Paterson continued. "I will endure the heat of the special interests. I have mortgaged my political career on this plan, but I will not mortgage the fate of the State of New York."
Most legislators did not linger afterwards.
Assemblyman Darryl Towns, one of the governor's remaining stalwarts, did, chatting with an assembly colleague before walking into a closed-door conference. He said Mr. Paterson's speech sounded the right message, and was responsible, given the fiscal and political climate.
"I think that I am with him as long as he is a candidate—I think the majority of New York Democrats are with him as well," Mr. Towns said, gamely. "Yes, we are friends, but it's also: Sixteen months ago, when he was talking about this economic storm was going to be the worst economic crisis that we've had to face since the Great Depression, a lot of folks thought he was being a little melodramatic. Now, over time, we see that he is dead on with that. Again: Sometimes it's difficult to be the deliverer of bad news, and this is tough."
jvielkind@observer.com