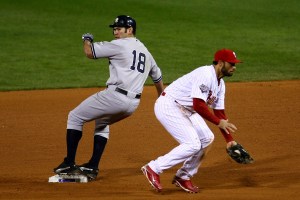 The Yankees won after a big ninth inning and everyone's writing about the "quirky" Johnny Damon play in which he stole two bases on one pitch. In the Post, Kevin Kernan says it puts Damon's whole career into perspective, and Kernan backhands a rather high compliment.
Damon doesn't throw well, his swings sometimes look awkward, and fly balls can be a bit of an adventure, but Damon is the kind of player the Yankees have to keep.
Hideki Matsui gets swan-song treatment from Mike Vaccaro under the headline "Godspeed, Godzilla." Vaccaro gives Matsui's career five graphs, and for a player who never mastered English–and who reporters have a hard time relating to–one has to wonder if that's as much he'll ever get. Vaccaro trots out his career numbers, but says the most impressive thing was "the humanity he brought to the role."

Alex Rodriguez steals quite a few stories after he broke a Series slump with the go-ahead RBI in the ninth. My favorite is the one David Wells pens for the Post. This morning's offering is about Kate Hudson, who Wells credits with A-Rod's success this postseason. It's not a novel claim at this point, but Wells brings some inside information.
She is the perfect complement to him. I know her a little bit and have talked to her quite a few times. She's just a really down-to-earth chick. She'll go to baseball games and have fun. She's just supportive of him, and that empowers him with an "I don't give a damn" attitude.
It wasn't an entirely glorious day for New York sports, though. Both the Jets and the Giants lost. The day-after stories are mostly summing up, so we'll have to wait until tomorrow for the real finger-pointing to start. But they're already tending in Rex Ryan's direction now that the 4-0 start is a distant memory. Gary Myers calls him green in the Daily News. And everyone seems to like this typically gracious post-game quote from Ryan about the 30-25 loss to the division rival Dolphins: "Sometimes, things just don't make sense."