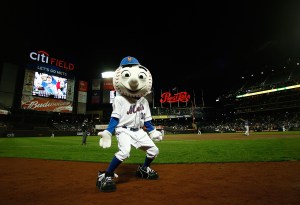 Remember the Mets? The Daily News apparently does, giving them the back cover admonition to "SPEND, SPEND, SPEND!" Rich Harper would like to see them sign the two biggest names in free agency, which seems kind of unlikely since they already have the National League's largest payroll and cutting those big checks didn't work out especially well for them this season.
But the Daily News is pushing the Yankees too. They've been running a "Keep 'Em or Dump 'Em" poll online, and–guess what–most Yankees fans would prefer to see their World Series heroes again next year. The only ones who get dumped are Brian Bruney, Sergio Mitre, and Xavier Nady. Sorry guys.
The Post pushes the Yankees even harder, with a back cover of Johnny Damon looking curiously like Jon Gosselin and the headline "He's an Idiot!" But it's really about his agent, Scott Boras, who had the gall to suggest that Damon's numbers stack up pretty well next to Derek Jeter's over the last few years. Joel Sherman doesn't like that. Sherman was all over the general managers' meeting yesterday, filling two copy-heavy pages with three pretty long stories.
The Giants are, mercifully, an afterthought in both papers. The Daily News dusts off the "Bad Eli" and "Good Eli" dichotomy and runs a picture of the "bad" side–Manning with his shoulders slumped, looking sad. In the Post, Paul Schwartz seems to agree that the Giants are still living on the prayer that was answered back in '07.
Steve Serby celebrates Mark Sanchez's 23rd birthday by saying it's not fair to have high expectations for such a young kid, but he'd better live up to them. Serby goes for the second-person to dish out a little tough love–I think.
You want to know how lucky you are, Kid? OK, pop quiz: What is the third largest feline after the lion and tiger? A: the Jaguar. Just a small sample of what life would have been like for you had Eric Mangini still been Jets head coach, or drafted you for his Cleveland Clowns.

Oh, and it's been about a month, so it's time for your stories about the Knicks' Eddy Curry slimming down and being ready to play. This story literally lasted one day the last time it surfaced, so enjoy it while it's here.