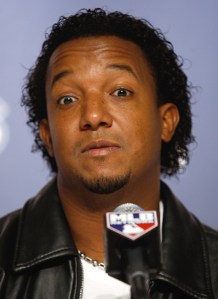 This morning reveals which paper is truly serious about its sports coverage. The Daily News gives its covers over to mayoral winner Mike Bloomberg, but not the Post. The wood of the Post doesn't even mention the election, and why would it, when the Yankees are facing Pedro Martinez tonight?
"Spank Him, Yanks," reads the headline, with a headshot of Martinez on a baby's body. It's not their best Photoshop work, but they seem to like it. The paper includes a pull-out poster with essentially the same image over that persistent refrain "Who's Your Daddy?" I'm not sure who exactly would hang a poster of a child in a diaper with Martinez's head, or where exactly such a person would hang it, but there it is. Maybe some fans will take them to the game to hold up as they sit in their very expensive seats.
The Post offers a little more substance this morning too, while the Daily News just seems a little thin on the Yankees beat. Maybe they re-assigned some people to cover the election? They've got two separate stories about guys taking batting practice–Mark Teixeira and Robinson Cano, both of whom are struggling–so they've got the BP beat locked down.
But the Post has those two with a little more meat. They've also got Joel Sherman talking bubbly. His lead this morning: "It is worth remembering that you can't spell champagne without 'pagne.'"
The Times speculates about whether the Philies' Chase Utley could be Series MVP even if the Phils lose. He's already tied Reggie Jackson's record for homers in a series. But the homers at the Post aren't having it. Kevin Kernan says "there's only one Mr. October," even though Reggie recently tried to give out Mr. Octobers II and III to Mariano Rivera and Alex Rodriguez.
And David Wells, being David Wells, says they ought to plunk him.
Chase Utley needs to kiss the Yankee Stadium dirt tonight.

Enough is enough, already. I would never advocate throwing at somebody's head, but there comes a time when you've got to make an insanely hot hitter like Utley squirm.