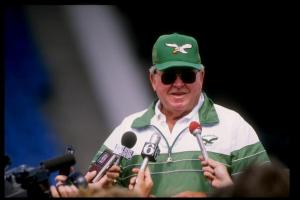 That Post story about Rex Ryan crying in front of his team really shook up your sports pages this week.
The Daily News plays catch-up today, putting both Rich Cimini and Gary Myers on it. Myers says Ryan should be more like former Cowboys legend Tom Landry.
I was around Tom Landry the last eight years of his Cowboys coaching career. He was always accused of lacking emotion, but he knew exactly how to pace his team.

In the 16-game roller-coaster ride, Landry always made sure his teams were never too high or too low. His goal was to have the Cowboys in contention around Thanksgiving and then hit the accelerator. That approach worked out pretty well for him until the talent level deteriorated the last few years.
It's an odd comparison, since Landry was a slender, serene man who wore a fedora, and Rex Ryan is a portly loudmouth. But the oddest part is that Landry's old nemesis Buddy Ryan–Rex's father and a man who once put a bounty on the Cowboys quarterback–also surfaces this morning. Cimini advances the Post story by calling up Buddy for a reaction quote.
"He's always been an emotional guy. That's why he's a good coach," retired coach Buddy Ryan, Rex's father, said Tuesday in a phone interview. "There have been some good ones that were like that. (Dick) Vermeil cried every day and he was a good coach."

A pretty good idea, right? Well, yeah, maybe, except that the Post really wants to own this one, so Steve Serby did the same thing. And he makes sure to let you know where you heard it first.
"He's a real emotional guy," Buddy told The Post last night. "He's a great motivator. We know he knows the game. Better than most."

Informed that Rex had cried in front of his team Monday morning, a story reported exclusively in The Post, Buddy said he had never done that, but viewed it in a positive light.

"Sometimes you have to do things to get their attention," he said.
Serby gets some better answers than Cimini did, so he goes ahead and gives us the whole conversation.
Meanwhile, the Daily News goes big on Wally Backman getting hired by the Brooklyn Cyclones, while the Post runs an Allen Iverson cover, which they maybe would have done the day before–like the Daily News had–if they hadn't had the Rex Watergate thing.