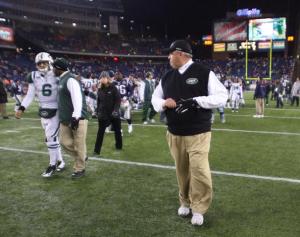 Your sports editors had a big choice for the back cover this morning: trumpet the big win, or bury the big loss?
The Post went for the win, celebrating the Giants' first victory since mid-October under the headline "BIG PHEW!" (The Giants blew a 14-point lead, and allowed the Falcons to send the game to overtime, but Atlanta lost the coin toss and the Giants marched down for a field goal on their first drive; hence the profound sense of relief.)
Eli Manning had his best day ever at the Meadowlands, and Steve Serby seemed to enjoy it.
The $100 million man played like 100 million bucks. He filled the air with heat-seeking missiles, threw as accurately as Giants Stadium has ever seen him throw.
Serby even says it "brought back memories of Phil Simms-to-Mark Bavaro" when Manning hit Kevin Boss for a touchdown.
Jets quarterback Mark Sanchez would love a Phil Simms comparison at this point. He'd probably settle for Richard Todd, even.
The Daily News goes for the big loss this morning–the Jets' awful performance against the Patriots–and there's really no one to blame but Sanchez, who had another five-turnover afternoon. The back cover shows Sanchez running his hands through his flowing black locks and staring sadly at the turf, with the headline "SOB STORY." It's a little bit of a reversal for your tabloids, since the Post broke the original sob story on Monday and wouldn't let us forget it all last week.
In any case, as I was saying, Sanchez would be so lucky as to get a Simms reference, what with his passer rating having sunk to 61.1. Rich Cimini calls it "Browning Nagle-esque," which is never a good thing–sub-O'Brien, sub-Foley, maybe even sub-Mirer, as Jet-quarterback-derived descriptors go–especially when it's from a sportswriter and not even from one of the columnists. In fact, the columnists go surprisingly easy on him. Gary Myers says the Jets are "making an investment in their future by sticking with Sanchez." And Rex Ryan doesn't seem too broken up about it either; he says the kid will never learn on the bench. The only ones who aren't happy are Sanchez's teammates.
Asked if the team has lost confidence in him, one player said, "We know he can play. (He just needs to) throw the ball away."
That's not so bad–for the most part everyone's quotes are diplomatic–but it's never a good thing when teammates are talking about you on a not-for-attribution basis.

Oh, and if you weren't keeping up this weekend, the Daily News was right to wonder last week about Knicks owner James Dolan quashing a move for Allen Iverson. Dolan apparently did just that late Friday, so that photoshopped Post cover with him in a Knicks jersey turned out to be premature. And after playing a surprisingly close game with the Celtics on Sunday, Jay Greenberg thinks the three-win team doesn't need him, and he echoes the team's line that part of the reason is Eddy Curry.
Eddy Curry always is an easy ridicule. But the Knicks' agenda is, and should be, building Curry's body and trade value to create more and better options for next season. Besides, Iverson is no picnic. So, for whatever buzz his one-season rental would have created at minimal cost, there is no such thing as a free lunch.
Welcome to the Eddy Curry Era, Knicks fans.