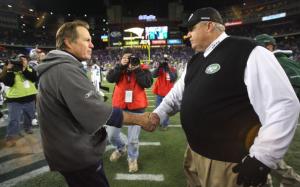 You're never going to believe this, but the sports sections of your Tuesday tabloids are all about Rex Ryan.
The Daily News actually puts Mark Sanchez on the wood on both sides, but the story is about how Ryan is taking over Sanchez's development after the young signal-caller threw the Jets out of yet another game on Sunday. Ryan, a lifelong defensive coordinator, has said he's going to be more involved in the offense and more focused on Sanchez, but he insists this "isn't a threatening deal" and is "by no means a slap" in the face of the offensive coordinator or the quarterbacks coach. Of course not. Gary Myers says it's too late, but better late than never.
Ryan waited a long time to be a head coach, but he has delegated way too much.
Maybe so. But isn't the real question here about how much Ryan can really help? The coach has been his quarterback's most dedicated apologist. Ryan has steadfastly refused to bench Sanchez, even in games when his quarterback is clearly overwhelmed. So what exactly is a career defensive coordinator–a blustery guy who basically shrugs off interceptions because he thinks his defense is always good enough to stop the other team–going to do with a rookie quarterback who can't seem to throw it to the right team? I guess we'll see.
The Post puts Ryan on the back cover under the headline "REX-RATED," and the paper keeps giving us new sides of Ryan the Character. At this time last week, they were breaking the news that Ryan had cried in a team meeting. This week, they got a Jets spokesman to confirm what everyone could see during the very end of the Patriots game, which is that Ryan said "F— them," after New England threw a long pass with thirty seconds left in a game that was already over. Yesterday Ryan said he felt "disrespected" by that.
The Post calls it a "Border War" between the two teams, and includes a timeline of said "Border War in Brief."

In any case, the Brady-to-Randy Moss bomb was surprising but not completely unexpected since Ryan came to the Jets talking about how he wasn't going to kiss Belichick's ring, and then Ryan's team crowed after beating them early in the season. So maybe Belichick, who is not a particularly sportsmanlike person in the first place, called the play in the same spirit as Sam Wyche calling timeout near the end of a blowout win over the loudmouth Jerry Glanville in order to tack on a field goal. And maybe that's just what you get for acting like Jerry Glanville.

There are some Giants stories too, but they're mostly about how the team has a short week to prepare for its Thanksgiving Day game.
And your basketball stories continue to be depressing. The Daily News has a graphic of how the Nets could soon achieve the worst start in N.B.A. history. Meanwhile, both papers are pushing the impact of newly-svelte Eddy Curry on the Knicks, who are 2-1 with him and face the Lakers tonight. The Post reports:
"I'm so happy to be back, doesn't matter to me," Curry said. "I'll guard Kobe [Bryant]."