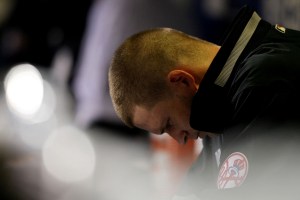 A.J. Burnett made it easy on the Phillies last night–surrendering 6 runs in just two innings–and that made things easy on your sportswriters this morning. A post-game mea culpa seems to have helped his cause, at least with the headline writers. "I let 25 guys down. I let a whole city down," Burnett said. So the Post gave him "A.J.'s Anguish," which could have been much more cutting, considering how bad an outing this was with the World Series on the line.
Two other things are at work here. First, it brings the series back to Yankee Stadium, as Mike Lupica points out.
If the Yankees are going to win No. 27, they will do it at home. They will do it at the new Stadium, Wednesday night or Thursday night. Maybe that is the way it was supposed to be, the new Stadium getting to see it all.
And there's the fact that expectations weren't really that high for Burnett in the first place. "You didn't really expect A.J. Burnett to step it up big time last night on three days' rest, now did you?" asks Kevin Kernan in the Post. (Maybe Joe Girardi did?)

Kernan gets an early start on writing about Pedro Martinez, who will start Game 6. His column picks up on a line from a Spanish-language interview Martinez did last week, when the pitcher said he had frog's blood, which seems to be an idiom for being cold-blooded. Kernan likes it enough to put it in his lead.

This is the way it has to be for the Yankees. They will get the chance to win the World Series at home. They can spear the frog. Pedro Martinez is that frog.
(Not to be confused with a fat pussy toad.)
Your football teams are still trying to figure out who's a goat and who's a frog, now that they've both come back to earth after early-season success. Rex Ryan is convinced that his bravado isn't to blame. From The Times:
On NBC on Sunday night, Tony Dungy, the Super Bowl-winning coach, addressed that topic, even quoting his mother, who he said told him: "When you win, say very little. When you lose, say less."

To which Ryan responded Monday: "I was brought up differently. We're not going to get anywhere by tiptoeing."
Ryan invoked a different animal for his 4-4 team, suggesting that luck, and not ineptitude, is the reason that the Jets embarrassed themselves against the Bills and (twice!) against the Dolphins. "Right now, it seems like we're snake-bitten a bit," he said.