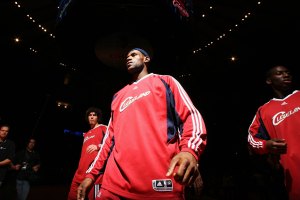 Both your tabloids are still pushing the Yankees on the cover this morning, and it's probably a shrewd business move since the big parade is scheduled for the Canyon of Heroes this morning. The Daily News is going with the wraparound cover for the second day, but this time they go horizontal–just like the Post did yesterday.
In any case, the coverage spills over into the main sections of both papers, because the Yankees partied at the club 10 a.m. last night. The Post says 200 bottles of champagne were consumed. Before that, a few of the Yankees were on The Late Show, and the News gives us a few choice exchanges, while the Post barely bothers.
The Yankee captain also shot down rumors that he was engaged.

"I heard that one …," Jeter said, "I've heard I've been engaged a few times. No, I'm not engaged. How about you?"

"No, I'm married, by God," Letterman said.
The biggest story, if you want to even call it that, is that Joe Girardi might change his number from 27 to 28 now that the Yankees have won their 27th championship and are now going for 28. Kevin Kernan likes the idea, because he says not enough teams are really trying to win championships and so that sets Girardi apart.
Your Knicks writers are hoping LeBron James isn't too eager to win a championship. James makes his only visit to Madison Square Garden tonight, and both your tabloids give it a lot of coverage. In the Post, Peter Vecsey walks you through Lebron's decision with a long second-person lead that brings you here:
Welcome to LeBronland. James and the Ohio Players invade the Sexual Harassment Hacienda tonight, meaning Madison Square Garden — for once — converts from a place to flee from into a place to be seen.
And George Willis thinks the Knicks should figure out a way to get LeBron to the Yankees' parade this morning–tampering rules be damned. "If James watches the Yankees today, maybe he'll day dream of what it could be like for him if he led the Knicks to a championship," Willis writes. The Knicks, it should be noted, are currently 1-4.