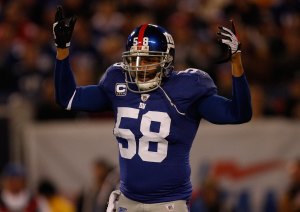 With an extra day to think about that last-second loss to the Chargers, your sportswriters take the temperature of the ailing Giants this morning. In the Post, Steve Serby switches movie references from yesterday's "Dead Team Walking" to this morning's "Bad News Giants." And what does he think about the Giants possibly rallying from these four straight losses and making the playoffs? "Mission: Impossible."
The Times was expecting that. Their Giants story leads with the possibility that the team could still make the playoffs, though it admits: "This hunch is counterintuitive in New York's manic-depressive sports culture." But The Times refuses to be bi-polar, so it goes for the reasoned, clinical view. "[A] slumping team sometimes loses a game it should win before it reverses its momentum. As with a patient in a sickbed, the fever breaks, but the illness must still run its course."
I'm not sure if the players think of themselves as a sick patient, but they definitely don't see it Serby's way–or if they do, they're savvy enough not to say it yet. "This team is capable of winning the championship," says linebacker Antonio Pierce on the Post's Giants Blog. It's hard to rule them out, but it seems a little like residual optimism after that Cinderella playoff run a couple years ago.
Either way, at least the Giants care. The Knicks are eight games into their season and it already counts as news when they show a glimmer of concern for winning and losing. The Times sums it up this way:
They are a running team that does not always run, a perimeter-shooting team that has not shot well from anywhere and a team that stressed defense in the preseason but has showed little interest in the regular season.

Their passion again flickered in and out Monday against the Utah Jazz at Madison Square Garden.
A Post headline says "Knicks care . . . sure they do," and the column leads with Coach Mike D'Antoni insisting to reporters that his team does, in fact, care. Even though they're 1-7 and most of them are playing on one-year contracts while they wait to get jettisoned this summer.
If Mike D'Antoni said it once, he must have said it a thousand . . . well, at least several . . . times last night: "They care."