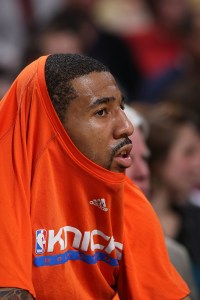 The Post gives you both ends of the sports spectrum this morning. The front cover belongs to Derek Jeter, who gets a playful headline because dressed like a bum for some movie he's in. But flip over to the back cover and you've got former Yankees closer John Wetteland celebrating under the headline "CRY FOR HELP," and a subhead directing you to a story about his near-suicide.
Joel Sherman tries to make some sense of the drama by remembering Wetteland's days as a Yankee.
CLOSERS as a genre tend to be flaky and wild. But even for the species, John Wetteland was different.
He drank coffee obsessively, roller-bladed maniacally in the bowels of the old Yankee Stadium — much to the chagrin of Joe Torre — and at a time when computers were rare in the clubhouse, Wetteland often would flip open a laptop to read inspirational scripture.
Okay, so maybe that doesn't sound so wild. But apparently Wetteland had a history of drug use and even though he seemed to have kicked it, Sherman says he would pour his coffee over the grounds two or three times to get it as heavily caffeinated as possible, which mostly just tells us that the guy might be jittery, but is also meant to suggest recovering-addict-y behavior, maybe.
The Daily News doesn't seem to like this story as much as the Post does. Their back cover shows Rex Ryan, who yesterday told Jets fans to "bring their A game" to the Meadowlands on Sunday. Filip Bondy thinks maybe the Jets should start winning consistently before they ask too much of their fans.
Jets fans have been beaten down over the years more than a weary pack mule. Every time they smell sweet victory, they discover only bitter defeat in their feed sack.
The Post completely ignores this story–nary a mention of it anywhere. Instead, there's a lot of Knicks coverage, and with the team one loss from their worst start in franchise history, it's mostly about whether this team will be historically bad, or merely very bad. Mike Vaccaro keeps it slightly more modern than Bondy.
They are simply an awful basketball team. They are outmanned. They are outgunned. They are a beaten-down eight-track player in an iPod world, an analog throwback in an NBA that went digital years ago.
The Times and the Daily News both have stories about Donnie Walsh, the architect of this disaster. He can't say what he's thinking and what we all know, which is that he really doesn't care about this year's team, and that he's just praying somehow he lands a big-name free agent next year. And so, for Walsh and Knicks fans, this somehow counts as a glimmer of hope: LeBron James is wearing some special-edition Yankees shoes.