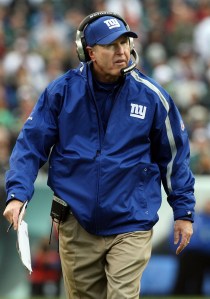 Both your tabloids are milking the Yankees for as long as they can, and why not, when both your football teams are disappointing and your basketball teams are disastrous. Baseball's an easy story right now: All the general managers are all gathered in New York. Take quotes, add off-the-record speculation about who's targeting whom, and that's kind of it.
But both papers go a little unconventional with their back covers. The Post has a Detroit Tiger, Curtis Granderson, on the back, because they think the Yankees will go after him. The Daily News puts Derek Jeter back there, which probably moves some papers, but doesn't really have any news value. The headline says "With 1 year left on Captain's deal, Yanks have to decide . . . WHAT JETER'S WORTH." Well, yes, eventually. But, as the article points out, since the Yankees don't negotiate extensions in advance, this story will be a little more relevant in a year's time. If it's relevant at all, since the Yankees would never let Jeter finish his career in anything but pinstripes.
Your football coaches both talked to the media yesterday, and, as usual, it's a study in contrasts. Ruddy Giants coach Tom Coughlin came in and talked about how he was to blame for the last-second loss on Sunday. "The blame goes right here, that's all," Coughlin told reporters. He was trying to take the heat off Eli Manning for not throwing the ball on a late third-and-goal in the red zone, but offensive coordinator Kevin Gilbride didn't express much confidence in his quarterback with this one: "If we had thrown it into the end zone there's a good chance it would've been a disaster." He was apparently talking about the defense, but still. In the Post, Kevin Schwartz leads with a translation of Gilbride's comments: "We should have thrown the damn ball."
Jets coach Rex Ryan always outdoes Coughlin on these days. He stands around, makes jokes, and all your writers seem to love it. Witness the Times:
Ryan, who prompted much laughter from his audience at his news conference, told of his friendship with Jack Del Rio, the Jaguars coach. They worked together in Baltimore.

"We're very similar," Ryan said. "Our teams are similar. We both like to run the football. Both teams are physical."

Ryan then reached his punch line. "Jack was a great player, and he's good looking," Ryan added. "Apparently, maybe we're not that similar."
Rex Ryan, everybody! The Daily News' Gary Myers couldn't get enough. He makes a point of mentioning that a lot of his quotes are from the hallway after the press conference, which is kind of like an exclusive I guess. Ryan says he thinks his team will make the playoffs, which would be a bold thing for the coach of a 4-4 team with a rookie quarterback to think, but by Ryan's standards counts as almost conservative.
Ryan also weighed in on Mark Sanchez, who gets his usual Thursday run, because he talks to the media every Wednesday. Sanchez apparently used the bye week to go practice with his old high school team. So we'll see how that works out. Ryan thinks Sanchez has been good–despite the 8 interceptions in two games–apart from one memorably bad read.
"He has done everything right … well, with the exception of the hot dog (incident)," Ryan joked.