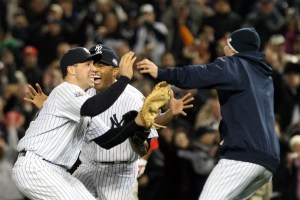 Your headline writers had nine years to come up with something for the Yankees 27th title and now that it's finally here, the News and Post give us…"27th Heaven."
Both papers have wraparound covers too, but the Daily News goes vertical for the occasion, so you don't actually see the two headlines next to each other on the newstand this morning. Instead, you see the upper half of the infield celebrating sideways. The Post gives you almost the same shot but straight-up. Their cover wraps horizontally, so they used a snap from a few seconds later, after a few more players had joined the scrum on the mound.
Inside, you've got all the stories you'd expect–everything you need to wrap a little bow on the postseason storylines. There are the obligatory stories about Alex Rodriguez's season, Pedro Martinez blowing it, Jimmy Rollins being wrong, Andy Pettite being good, and Mo Rivera being himself.
The most interesting stories are about Hideki Matsui, who had 6 RBIs last night and won the World Series MVP. The aging enigma almost single-handedly won last night's game, but the team is unlikely to re-sign, so you've got some tension there that you don't get in all the other celebratory stories. The Post calls him the "Beast from the Far East," and the Daily News says it was the "goes down as the greatest exit since John Elway won a second straight Super Bowl and rode off into the sunset." Also, the Times explains in a Tokyo-datelined piece, Japan is very, very excited about his performance.

The Knicks still get a surprising amount of space in the papers this morning, mostly burying them for turning in such a dismal performance in the game before LeBron James comes to town. But The Times brings it all together:
The Knicks can take solace in the probability that James, a devout Yankees fan, was probably watching another channel.