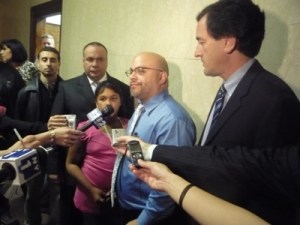 ALBANY—The Senate and Assembly have agreed to do four things in today's extraordinary session: a foreclosure relief bill, a loan program to allow businesses and homes to become more energy efficient, a mandate relief bill and the closure of a parole loophole.
A vote on same-sex marriage is not likely, sources said. The State Senate can't muster more than 25 votes, according to a senate source, and the chamber's leadership is concerned that a vote might be seen as a setback. Senators are debating this now behind closed doors–sources tell Liz it's very passionate–and advocates from the Empire State Pride Agenda are reiterating their call to put the bill out on the floor for a vote.
"To not bring this bill to the floor for a debate would be a slap in the face to every LGBT New Yorker. We have waited far too long for the basic respect of a vote from our elected State Senators on an issue that affects our daily lives and the lives of our loved one," Alan Van Capelle said in a statement.
The State Senate will also pass a bill making it a felony to drive drunk with someone under 16 in the car. Lenny Rosado, whose daughter Leandra was killed in October on the Henry Hudson Parkway, appeared a press conference to make a tearful plea for the bill dubbed "Leandra's Law."
State Senators Charles Fuschillo, a Long Island Republican and Martin Malave Dilan, a Brooklyn Democrat, said that the chamber will vote on a program bill submitted by David Paterson, and the measure is expected to pass. However, they say there is no agreement with the Assembly to pass similar legislation.
UPDATE: Senators did not, as was expected, discuss same-sex marriage this morning in conference. A discussion is expected this afternoon.
"Tom didn't get there until late, so we haven't talked about it yet," Senator Diane Savino, a Staten Island Democrat, told me.
Most Democratic senators I spoke to, privately, say they don't believe the bill will come to a vote this afternoon.