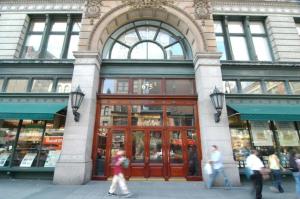 Trader Joe's, oh ye of endless lines, Hawaiian shirts, eerily pleasant staff, and to-die-for chipotle-flavored hummus, finally you're coming to Sixth Avenue!
The store has signed a lease for the retail space at the handsome Mattel Building at 675 Sixth Avenue, the storefront formerly occupied by Barnes & Noble, according to an industry source. Trader Joe's, as is its notoriously press-unfriendly wont, declined to comment for this story, except to remind The Observer that Trader Joe's has another "confirmed" store opening on 72nd Street.
But the deal is, for all intents and purposes, done, with all but one party signing (and that party is not Trader Joe's).
This will bring the New York population of Trader Joe's to five: There's the original store on 14th Street; another Trader Joe's on Court Street in Brooklyn; a third Trader Joe's in Rego Park, Queens; a fourth Trader Joe's to open next year at Broadway and 72nd Street; and now this one on Sixth Avenue, between 21st and 22nd streets. (We suppose it's six if you count the wine shop on 14th Street.)
The following people would not comment for this story: Gene Spiegelman, the Cushman & Wakefield broker representing the chain store; Gary Alterman and Robert K. Futterman of the eponymous Robert K. Futterman, who represented the landlord, and the landlord himself, Israel Taub.
But a brochure on the real estate database CoStar describes the 41,000-square-foot space, with its asking rent of $200 a square foot, thusly: "Exceptional retail space with soaring ceilings and the grandeur of original turn-of-the-century Adam's Dry Goods department store."
drubinstein@observer.com
More Commercial Breaks:
Oil-Rich UAE Buys Distressed East 46th Street Site
Big-Time Fight Over St. Regis Retail; Chera Cries 'Conspiracy' in Lawsuit
Scotiabank Leaving Lower Manhattan?