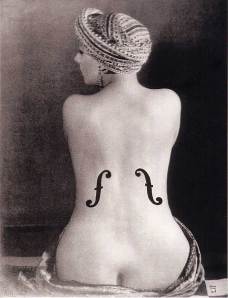 A curious obscurity clings to Man Ray, the transatlantic dandy who died in 1976 at the age of 87. Nobody could call him overlooked, exactly. The artist is enshrined in art history as the first American to gain membership to deluxe avant-garde circles of Surrealism and Dada. Several of Man Ray's works, like Le Violon d'Ingres (1924)—that entrancing, bad-dream image of a woman's undraped back tattooed with two F notes—are among the most familiar and reproduced images of what you could term high-style Surrealism.
But in spite of Man Ray's fame, his biography is missing the sort of facts and anecdotes that normally fill out an artist's legend. A satisfying new exhibition at the Jewish Museum, "Alias Man Ray: The Art of Invention," attempts to fill the gaps. Organized by the curator Mason Klein, the exhibition displays paintings, photographs, sculptures, films and dusty Dadaist hijinks, more than 200 in all.
Man Ray was born Emmanuel Radnitzky, the eldest child in a close-knit family of Russian Jewish émigrés. His father was a tailor who worked in a garment factory; his mother was a seamstress.
The show's thesis is, in part, that Man Ray's life and career were shaped by his experience as the son of Jewish immigrants. At some point, Manny was streamlined to "Man Ray," a commercial tactic of assimilation not uncommon for children of immigrants aspiring to artistic success. (Andrew Warhola, a Slovakian kid from Pittsburgh, did the same.) Later, as an adult traveling through Paris, Man Ray went to great lengths to suppress his background, swearing family members to secrecy and writing a 1963 biography, gamely titled Self-Portrait, that left out almost all mention of dates.
As a young man, Man Ray fell hard for Europe's modern gods, starting with the 1913 Armory Show. Early works in the show display the artist's apprentice efforts to master Cézanne, Fauvism and Cubism. MoMA's The Rope Dancer Accompanies Herself with Her Shadows (1916), a semi-abstract canvas, is generally thought to be his best, combining piquant color—rare for the artist—with jittery energy.
Around that time, Man Ray was introduced to Marcel Duchamp. The two became close friends and would later collaborate on New York Dada, the house pamphlet for the otherwise short-lived New York Dada scene. Surviving works from that period, like L'enigme d'Isidore Ducasse (1920/71), a tied-up sewing machine in a blanket, looked outrageous once but may no longer provide such a thrill. Man Ray left for Paris in 1921, where he met some of the most important figures in the vanguard of art.
"Alias Man Ray" is unlikely to alter the view that Man Ray's chief talent was in photography. The standouts are the artist's rayographs—X-ray–like images made on photographic paper without the aid of a camera. The works brace visual flair against obdurately un-poetic objects—a pistol, a key chain, a comb and so forth. The show also features a handsome suite of Man Ray's work in fashion photography, which he later insisted he did just for the money. But his portrait of his assistant, Lee Miller, is lovely—a solar aureole the way of angels. At the same time, Man Ray's imagination has a nasty side. His female nude montages put a chilly hold on Eros.
It's worth noting that Man Ray felt more comfortable living in Paris, then a hotbed of anti-Semitism, than he did in his hometown. After the war, the artist returned to Paris and spent the next 20 years working quietly in his studio on rue Férou. Some documentary footage from the period included in "Alias Man Ray" show him as a carousing grandfather figure with a weakness for cigars, French berets and cornball anecdotes about Andre Derain. Go figure. One leaves the show thinking Man Ray is a subject that can't help but remain unknowable.