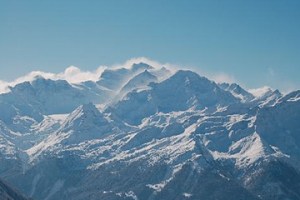 Verbier is gorgeous and super fun all year round. If I could design the winter season of my dreams, I'd rent a Chalet in this mountain town from mid January till closing post Easter. To make the most of Verbier, I've pulled together everything you'd want to know, from renting a private chalet to great ski guides to where to eat & enjoy apres ski.
WHERE TO STAY IN VERBIER
The Lodge, A Chalet Perched in the Swiss Alps
Enter into this blissful chalet and hang your stresses on the heated boot warmer rack. Bam Bam, the adorable lodge dog (cocoa colored flat coated retriever) runs over, tail wagging and then goes to seek … read more about The Lodge.
www.virginlimitededition.com | Phone: +44 20 8600 0430
Verbier Switzerland
Le Chalet d'Adrien, A Traditional Swiss Chalet in Verbier
Le Chalet d'Adrian is only about 1.5 hours' drive from Geneva, full of ski bunnies in chic gear. The hotel's 29 rooms are each named after a mountain flower, and they all reflect the local traditions with wood paneling, pretty fabrics, and … read more about Le Chalet d'Adrien.
www.chalet-adrien.com | Phone: +41 027 771 62 00
Chemin des Creux | Verbier Switzerland
Hotel Les 4 Vallees, steps away from the Medran in Verbier
Sunny, bright, clean and no-nonsense is what you get at this in-town basic which I recommend for those not searching out "luxe", rather … read more about Les 4 Vallees.
www.les4vallees.com | Phone: +41 027 775 3344
Rue de Médran 20 | Verbier Switzerland
King's Parc Hotel, Exceptional Suites with Alpine Views
Located in the heart of the village and based on the traditional alpine concept , this is a suite only hotel—each with its own separate sitting room and balcony with … read more about Kings Parc Hotel.
www.kingsverbier.ch | Phone: +41 027 775 2010
Verbier Switzerland
Nevai, A Modern Hotel in the Heart of Verbier
The younger sister hotel of the traditional King's Parc Hotel, Hotel Nevai is chic, modern and ultra sleek. (NB: not my taste for a ski resort but .. read more about Nevai.
www.nevai.ch | Phone: +41 27 775 40 00
Verbier Switzerland
Hotel Vanessa, Overlooking the Valaisans Alps
Hotel Vanessa, is re-opening December 2009 after undergoing near-complete renovation. Tucked away behind the Place Centrale, it is a lower-priced family-friendly option with … read more about Hotel Vanessa.
www.hotelvanessa.ch | Phone: +41 027 775 28 00
Verbier Switzerland
Rent a Cozy & Gorgeous chalet in Verbier
For those who dream of white mountains and luxurious accommodations, consider these chalets your fairy godmother. The twenty chalets offer gorgeous sights, inside & out—the comfy beds and wood walls, or the … read more about these private chalets.
Verbier Switzerland
Rent a Very Stylish Chalet in Verbier
A beauty of a chalet, this was the one with living space I loved—great decor with Sri Lankan doors leading to pool and hammam area. The entrance hall and cloakroom space is … read more about this private chalet.
Verbier Switzerland
Rent an Ultra Sleek Spa-Chalet in Verbier
The concept of these chalets was developed by Andy Turner and Patrick Polli, who wanted to give guests an opportunity to indulge in their own chalets in Verbier. The larger of this new group's two chalets thus far is a James Bond meets … read more about this private chalet.
Verbier Switzerland
WHERE TO EAT IN VERBIER
Restaurant File: Verbier's On piste lunch spots, hip apres ski, & more
L'Olympique
Best lunch on the slopes, L'Olympique is also accessible for non-skiers. There is a wonderful terrace to tan when the sun is out. Walls are cleverly decorated with … read more about L'Olympique and other fab dining spots in Verbier.
WHERE TO PAMPER YOURSELF IN VERBIER
Massages, Treatments & Yoga in Verbier
I'm a massage, yoga & pilates junkie and think that holiday, especially where one exerts oneself physically, deserves a bit of pampering … read more about my top picks from super services I tried.
TIPS & TIPS, VERBIER
Top Skiing & Skinning In Verbier
The Four Valleys ski area of Verbier although extensive is only a backdrop to Verbier's off-piste and ski "itineraries". These are the famous runs that are patrolled but not groomed. Make sure you have good edges and are … read more on my tips, guides & schools to experience the best of the Four Valleys.
Verbier: My Insider Tips
Verbier, with its stunning settings is one of my favorite ski-resorts world-wide. And very convenient that I've many friends with chalets & flats here too. If skiing is not your sport, there are many other activites to enjoy, especially in the summer months when Verbier … read more of my at-a-glance guide to enjoy the best of Verbier.
Suzanne Aaronson, Co-founder of Suzanne's Files, is our Travel Curator. Stay in-the-know on her latest finds and insider tips by signing up to receive Notes from Suzanne's Files, a free e-newsletter.