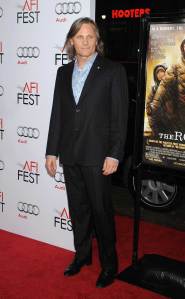 The New York premiere of director John Hillcoat's adaptation of Cormac McCarthy's Pulitzer Prize–winning, doomful tale The Road was conspicuously missing its blond South African star: Charlize Theron.
On the third floor of the Clearview Chelsea Cinemas on Monday, Nov. 16, soft-spoken actor (and poet/musician/artist/sex object) Viggo Mortensen admitted to the Transom that he had concerns over his role. "I was scared to death of the emotional toll," said Mr. Mortensen, a rumored Oscar contender. "But once I got going and just trusted the boy who's playing the son and we connected, it just took its own natural rhythm and went from there."
Dapper in a double-breasted black suit and leather boots, Mr. Mortenson wore a heart-shaped charm pinned to his lapel—a prop from another project, he said. "It symbolizes love." You don't say!
Mr. Hillcoat, meanwhile, said that the runaway success Ethan and Joel Coen had with Mr. McCarthy's No Country for Old Men in 2007 didn't faze him. "If we had started thinking about things like Pulitzer Prizes and No Country for Old Men and all that, it would just throw you off," he said.
Also there were author Sebastian Junger (The Perfect Storm author) and TV journalist Bryant Gumbel. "I'm on kind of a post-apocalyptic clip lately," said Mr. Gumbel of his recent reading list, which did not include the McCarthy epic though he carried it around for a week. "I just finished reading The Last Babylon, finished One Second After, ordered Tales from the Wasteland," he said.
It's also safe to assume that Mr. Gumbel isn't up to date with the latest on Bella and Edward Cullen, as he stared back blankly when queried whether he would be going to see the second movie in the Twilight vampire-lust series upon its release later this week. "I'm sorry," the newsman said. "I liked Underworld; does that help?"