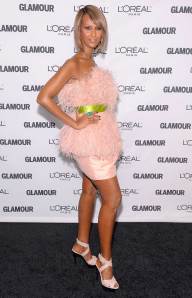 On the evening of Monday, Nov. 9, Aerosmith's Joe Perry, who reportedly learned of lead singer Steven Tyler's leaving the band in the press, tweeted that he was positively looking for a new lead singer.
Meanwhile, Mr. Tyler was dropping by Glamour magazine's Women of the Year awards at Carnegie Hall to cheer on poet Maya Angelou, who was being presented a lifetime achievement award by president Bill Clinton. Mr. Tyler, who seemed a bit loopy and tired, said that he's been "having way too much fun" and then something about a sobriety check. His girlfriend, Erin Brady, was by his side, draped in a massive fur coat, though the singer, wearing an embroidered floral jacket, told reporters he was also there to support animal-friendly designer Stella McCartney, daughter of Paul.
"Stella is fabulous. I go in and buy purses all the time. You know how androgynous I am," Mr. Tyler said. And then, imitating himself: "Stella! Thirty percent rock discount!"
A reporter asked him how Mr. Tyler gets ready for nights out. "I ask sweet Jesus to please make me not stutter and then I give her a kiss," he said, leaning over and smooching Ms. Brady, "and then I ask Marco where we're going and make sure my makeup looks all right and from there we just"—and here he began singing—"follow-the-yellow-brick-road! Ha-ha-ha." ("Marco" was presumably record producer Mark Hunter, who was part of Mr. Tyler's entourage that evening.)
Next up were released-from-captivity journalists Laura Ling and Euna Lee, who were being presented an award by actress Catherine Zeta-Jones.
"I'm excited to just say hello to him again tonight," said Ms. Ling. "President Clinton has called a couple of times to check in on us and we've had dinner with him and Chelsea." Oooh, fancy!
Actress Andie MacDowell arrived with 20-year-old daughter Rainey Qualley, an aspiring actress dressed in a curve-enhancing Herve Leger dress. "I tell her to accept herself and to be confident," Ms. MacDowell said when asked what sort of womanly advice she has passed on to Ms. Qualley. Then Ms. MacDowell told her beautiful daughter that she had lipstick on her teeth. Ms. Qualley used her finger to wipe it off.
Real Housewives of New York member Alex McCord arrived with husband Simon van Kempen, and was noticeably displeased when told that while she was welcome to pose for photos, the red-carpet interviews were restricted to honorees and their presenters.
Next came Precious actress Gabourey Sidibe, who told reporters that she would like to star in something lighter than her current critically acclaimed film. "I think I'm funny and my mom thinks I'm funny, so yes, we think I should do a comedy," she said, laughing. Supermodel Iman, there to present an award to Rihanna, saw Ms. Sidibe and squealed. "I never met you before and now I see you twice in one week!" said Iman. "I love your dress," the young actress replied, admiring Iman's feathered Jason Wu mini.
"Sorry. Iman," she told reporters after the interruption, rolling her eyes and breaking into a childish giggle.