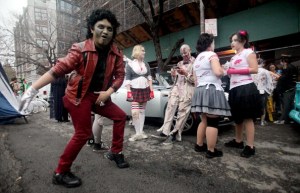 Meb Keflezighi became the first American man to win the NYC Marathon in 27 years this morning in Central Park.
Bloomberg and Thompson tell some white lies.
Charlie Rangel is knighted in Jamaica.
Bloomberg gets the hip-hop vote.
Zombies for Obama marched in the Village Parade on Saturday.
Governor David A. Paterson: A Record of Accomplishment.
The Department of Education has lowered expectations for next month's high school report cards.
Obama advisor Valerie Jarrett finds GOP leaders "more and more extreme."
City Hall News weighs in on the "gamble" of a Bloomberg third term.