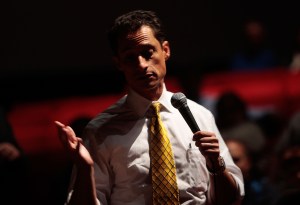 Could Anthony Weiner have won last night?
In the wake of Mayor Bloomberg's tepid re-election, one has to wonder if the election was really won in May, when Mr. Weiner announced he wouldn't run against the wealthy, popular, incumbent mayor, who was ready to launch a limitless smear campaign against the young Congressman. A story in The Times this morning said Bloomberg's campaign was holding daily meetings focused on how to knock Mr. Weiner out, which they finally succeeded in doing on May 26, an occassion Mr. Bloomberg's two top aides celebrated at Peter Luger.
The fact that Bill Thompson fell only five points short, without particularly captivating anyone, suggests the more aggressive Mr. Weiner might have pushed Mayor Bloomberg into a legitimate race.
So, what's Mr. Weiner thinking? Well, Eliot Brown caught up with him last night at Mr. Thompson's "victory" party, and asked about the future.
"Look, to some degree, Democrats need to look in the mirror. There are a lot of Democrats who voted to overturn term limits. There are a lot of Democrats who went and worked for and supported Republicans," he said. "I do think the Democratic Party in New York City–we have to do a better job, and I'd like to be involved in helping to get that party back together."

So what's in store for 2013?

"Tonight is about Bill Thompson," Weiner said. "I said when I dropped out that I did it for a couple reasons, and I think all of them have been redeemed."
But, Eliot tells me, Mr. Weiner spoke about that feeling of redemption before the closer-than-expected returns started rolling in.