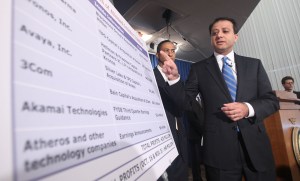 Preet Bharara spent some serious money to listen in on Galleon Group founder Raj Rajaratnam, and the 19 others charged in that vast insider-trading network.
Tapping one phone, for one month, costs $60,000 dollars, according to Michael Gurland, a former federal prosecutor interviewed on the WSJ Law Blog yesterday.
You have to report to the judge every 10 days on the progress, and after 30 days, the tap lapses and you've got to do the application all over again. Keeping wiretaps going really can take all the time of a single prosecutor, not leaving him much time for anything else.

For these reasons, it's very rare for insider trading, which is sometimes thought of as a victimless crime. Dealing with the FBI can also be quite time consuming.
Mr. Gurland says the S.E.C. normally just follows a paper trail if a trade looks suspicious, which is probably why everyone on Wall Street was so surprised and terrified when they heard about the wiretaps, and is now conducting their inside dealing over lunch.
The U.S. Attorney's Office declined to say how many phones were tapped, or for how long, but the complaints suggest at least a handful were tapped for at least a few months. Conservatively, five phones at five months would come to an even $1.5 million dollars.