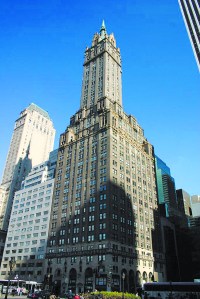 Earlier this year, the investor Christopher H. Browne put his 515 Park Avenue duplex on the market for $32.5 million, even though the place was basically a one-bedroom apartment. There was a guest room, to be fair, but it was smaller than the master suite's walk-in closet.
The duplex was taken off the market in September, leaving a gaping hole in New York's inventory of wildly expensive one-bedrooms. The house-hunter who wanted to spend an incendiary amount of money on a place that could comfortably sleep just one had nowhere to turn—until now.
Brown Harris Stevens' Richard Wallgren, the former director of sales at the tectonically successful 15 Central Park West, just put a petite co-op at the Sherry-Netherland on the market for $9.5 million. The listing's summary says there are two bedrooms, but the floor plan and a description of the interior both say the second is a library/bedroom. In a marketing photograph it looks like a library, is paneled like a library and has a library's bookcases.
The $9.5 million apartment doesn't have a dining room, though there's a 5-foot-wide terrace off the living room, a dressing area, a walk-in-closet and two bathrooms. (The listings calls one of them "sybaritic," an adjective that according to Webster's refers to the sensual and notorious luxury of the ancient Sybarites.)
If history is any guide, the co-op's price will fall. In August 2008, the billionaire art collector Eli Broad put his Sherry-Netherland apartment on the market for $15 million, which became $13.5 million in January, $11.5 million in February and $10.95 million in March. The place was reportedly off the market this June, but it's still available with Stribling for that last asking price.
That means Mr. Broad's apartment, which takes up a full floor in the co-op's tower, costs just $1.45 million more than the new listing. On the plus side, his monthly maintenance fees are a lurid $17,845.
mabelson@observer.com
More on Manhattan's luxury housing:
Walt Disney's Grandniece Finally Sells West End Co-ops, But Loses Millions
Awesome and Disappointing: The Meaning of Big Deals at 838 Fifth, Chupi and Beyond
Sloane Mansion's $25 M. Price Slide: 'Owners Have a Real Need to Sell'