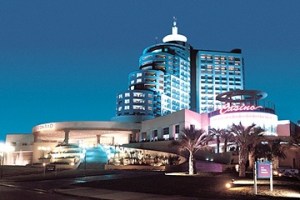 Don't Believe the Hype! Sometimes the gorgeous photos you see on Websites and in magazines are misleading, and many properties receive undeserved praise in the press. By giving you honest feedback from our personal experience, or that of someone we know and trust, the Beware files help you steer clear of disappointment and wasted time and money.
If you want to experience an authentic beach holiday in Punta del Este, it makes no sense to stay at the Vegas-esque Conrad Punta del Este Resort & Casino, which looms large over Punta's congested downtown. "Avoid the Conrad hotel altogether! Too big, too bling!" says Marcela Moreira, a London-based business consultant who hails from Uruguay and spends every New Years in Punta. Massive by local standards, the hotel has nearly 300 guest rooms plus a concert hall and convention facilities. The clientele isn't particularly chic, and while the hotel has such modern amenities as a gym and spa, it seriously lacks the charm and intimacy of some of the posadas in less crowded villages further up the coast. The Conrad's Website says it's located "across the street from La Mansa Beach," but that "street" is actually Punta's main highway! If you're bored on a rainy day and feel like gambling, or if a major music act like Shakira or Bob Dylan is performing there, then by all means stop by for some entertainment, but stay elsewhere, especially during high season.
conradhotels1.hilton.com
Punta del Este Uruguay
Suzanne Aaronson, Co-founder of Suzanne's Files, is our Travel Curator. Stay in-the-know on her latest finds and insider tips by signing up to receive Notes from Suzanne's Files, a free e-newsletter.