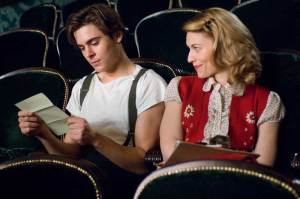 Me and Orson Welles
Running time 114 minutes
Written by Holly Gent Palmo
Directed by Richard Linklater
Starring Zac Efron, Christian McKay, Claire Danes
Crowded into the cinematic sardine can of year-end releases, Me and Orson Welles is a modest but gigantically charming jewel that deserves rapt attention. Witty, wise, warm and unfailingly entertaining, it's one of the year's happiest surprises. And who knew Zac Efron could act?
In this lovable period valentine to the arts, the teen heartthrob displays a depth and charm that nobody over the age of 14 would ever have suspected; it's above and beyond anything he's shown before, in pukey, overhyped junk like High School Musical. Although he looks more like a college student than a callow high-schooler, Mr. Efron plays a stage-struck 17-year-old named Richard Samuels, who accidentally lucks into a job with Orson Welles' legendary 1937 Mercury Theatre production of Shakespeare's Julius Caesar, pared down to 90 minutes and performed in modern dress on a bare Broadway stage with everyone wearing the fascist uniforms of Nazi Germany. It's a year until Welles' "Invasion from Mars," which terrified an entire nation of radio listeners, and several years before Citizen Kane, but his mad, eccentric genius in the making was already obvious. What fun to watch theater history through the eyes of an innocent teenage bystander. At first he thinks he's just another anonymous spear carrier in the crowd scenes, but since Welles was famous for improvising everything on the spot, Richard ends up in the small role of Lucius, playing a ukulele and singing a lullaby to Brutus (played by Welles himself) before the final battle. Craving the star-director's approval, he gets a close-up of his rampaging backstage ego, as Welles shoves his pregnant wife Virginia into the background while seducing every actress involved in the production. The challenges of working for Orson Welles (Christian McKay, in an inspired performance) grow too intense for a nice young man to overcome, especially when he's cutting school to attend rehearsals, and then there's the additional strain of falling in love with Sonja Jones (beautifully played by Claire Danes), the creative lunatic's bright, ambitious Girl Friday whose can-do personality endears her to everyone, including the critics. (Brooks Atkinson sends her roses.) After Richard loses his virginity to the delectable Sonja, the eventual clash between talented bit player and his demented mentor becomes inevitable. Richard is so gullible that he actually thinks he's getting $25 a week and a chance to join Actors' Equity, until Sonja explains: "You're not getting anything—except the opportunity to be sprayed by Orson's spit."
The film moves from Broadway to the backstage action at the CBS radio show where Orson's mellifluous voice paid the bills; at one point he races through the snow in an ambulance to beat the traffic. The impressionable Richard, meanwhile, is plunged into a firsthand exposure to the theater by a madman with a monstrous ego. Along the way, we meet the actual players in the Mercury troupe—including Joseph Cotten, Martin Gabel, George Coulouris, and producer John Houseman. Names are dropped relentlessly: Tallulah, Gielgud, Richard Rodgers, Jed Harris, David O. Selznick. Based on Robert Kaplow's meticulously researched novel about the wayward Julius Caesar production, it leaves no stone unturned—including the hilarious dress-rehearsal matinee in which everything goes wrong; the flooding of the theater hours before the opening-night curtain; and the astonishing reviews, which, to everyone's astonishment, pronounced the show a titanic smash hit! In a deceptively simple script, skillfully written by Holly Gent Palmo, several themes emerge, but the most durable is the reiteration that in the theater, magic happens when it's least expected.
As Richard grows from starry-eyed fan to calloused veteran with eyes wide open, he gets a crash course in the joy, cruelty and heartbreak of Broadway. With its story of a naïve, impressionable and idealistic young man who learns too much too soon from a cynical, eccentric master, the movie shares obvious similarities with My Favorite Year. But the look of New York on the eve of World War II and the actual recordings of Tommy Dorsey, Benny Goodman, Billie Holiday and the many others who made the period come alive musically lend an air of thrilling authenticity I didn't think possible from oddball filmmaker Richard Linklater. Hopefully, it will attract a more sophisticated audience for this unpredictable director than the small, narrow gang of followers who like his slacker comedies and druggie cartoons. What he has done with Zac Efron is nothing short of dazzling, but the real revelation is Christian McKay, who captures in hair-raising detail the self-centered, egotistical mannerisms, contradictory vocal inflections and flamboyant behavior of the phenomenon known as Orson Welles.