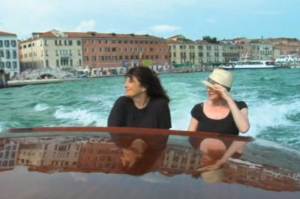 Since Gourmet folded in early October, Condé Nast has pledged to continue to market the iconic brand. Gourmet's cookie cookbook is due to come out early next year, and a PBS show, Gourmet's Adventures with Ruth, is in the middle of a 10-episode run.
That show's first season is nearly over. So will the magazine's former editor, and TV star, Ruth Reichl, who said in interviews that she was stunned by the sudden closure of the magazine, be any part of what's next?
If you ask anyone at WGBH, the station that produces Gourmet's Adventures with Ruth, they certainly hope so!
"The feedback is that the programmers love it, and they think it's terrific," said Laurie Donnelly, an executive producer at WGBH.
The show features Ms. Reichl and some famous pals—Diane Wiest, Frances McDormand—taking trips to exotic locales to learn about local food. If your idea of a good show is Lorraine Bracco straddling a bowl full of couscous, then this is most definitely the show for you!
Ms. Donnelly said it was too early for a ratings report, but when we asked whether WGBH would like the show back for a second season, she said, "Oh my God, absolutely!"
Ms. Donnelly also said she had spoken to Ms. Reichl last week and that the former editor said she'd love to do a second season.
But for the time being, WGBH seems to be the only party entirely onboard.
A Condé Nast source told us that "Ruth is torn over the decision" of whether to continue on.
A source close to Ms. Reichl said that no one from Condé Nast has reached out to ask her to do another run of the show.
A Condé Nast spokeswoman hedged a bit and said, "We're committed to continuing Gourmet's strong television presence, and we'll begin discussions about what we can do in early 2010."
Conde Nast owns the show, but since it is entirely underwritten by sponsors, it's no expense to them or WGBH.
And while Ms. Reichl waits for that phone call, she can work on the project she told us about at the launch party for the television show back in October: a book on her years as an editor inside Condé Nast.
"The new business realities have changed the life at Condé Nast," she said in October. "I think print magazines as we know them will cease to exist."
Tell us more!
jkoblin@observer.com