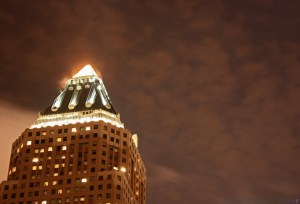 When Worldwide plaza was completed in 1989, the West Side conjured thoughts of West Side Story, not high-end office space.
Fast-forward 20 years, and the sale of Worldwide Plaza—the 47-story granite and brick edifice that towers above Hell's Kitchen, spanning 49th and 50th streets and Eighth and Ninth avenues—has been 2009's biggest New York City building deal to date. While the rest of commercial real estate was in reruns this summer, Worldwide Plaza was very much live.
After complicated and very public negotiations, George Comfort & Sons, with partners, bought Worldwide from Deutsche Bank for less than a third of what it last traded for in 2007, when an irrationally exuberant Macklowe Properties bought it for more than a billion. The new owners, however, also inherited a vacancy rate of more than 40 percent, with original anchor tenant Ogilvy & Mather having recently split. The jury's still out, then, on whether the deal was, well, a deal.
But Worldwide has a history of beating the odds.
TWENTY YEARS AGO, PBS filmed the later stages of Worldwide's planning and construction for a documentary called Skyscraper! The Making of a Building. It showed the good, the bad and the ugly of commercial construction then—and now—in Manhattan.
Before banks would loan developer William Zeckendorf Jr. the $550 million for land and construction, he had to secure a major tenant. When Ogilvy & Mather, the advertising and PR concern, signed on to move in, ground was broken, literally and figuratively. The move was a gamble for the company—again, a little too far West Side for Gotham big business then—but the deal was sweetened by perks such as a private lobby and a share in the building's profits.