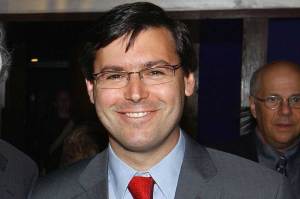 Though he has only a few weeks left in office, City Councilman David Yassky has lost none of his enthusiasm. On a recent Wednesday afternoon, he parked a blue minivan on Kent Street in Williamsburg and bounded out, wearing a black suit and a black tie with green flowers, and no coat, although it was cold and damp and the suit jacket flapped in the unyielding wind.
Yassky, joined by his community liaison Rami Metal, was facing several rows of dusty trucks, a wide expanse of Astroturf and the East River. We were there to look, four years after the fact, at what had become of the parks the city promised Yassky in exchange for a sweeping 2005 rezoning of the Williamsburg and Greenpoint waterfront.
"This happens every year at the end of the term," said Yassky, 45, a boyish, emotionally transparent policy wonk who has represented his Brooklyn district since 2001. "There are things they really want to get done."
"They" in this context is the city government: the mayor's office, the planning department, the parks department. That rezoning bore dozens of condominium projects in a feverish real estate market, but they have not, so far, produced any of the three parks that were part of the agreement.
The almost-park, called Bushwick Inlet Park, is far from completed, but it is happening. Asked how hard it was to get it to this state of readiness, Yassky said, "It was murder. It was a nightmare."
The Astroturf was very green and slippery, like a field made out of plastic leis. It didn't seem ideal for any use, though Yassky told me the city parks department has been using it for years, because real grass is hard to maintain and gets muddy.
"The original plan for Bushwick Inlet Park was starting at North 9th, going through to the inlet," Yassky said. "If you go back to 2005 when Amanda Burden and Dan Doctoroff would come present the vision for the Brooklyn waterfront."
As sometimes happens, "the vision" has materialized more for the private sector than the public.
It's true that the neighborhoods of Williamsburg and Greenpoint are being transformed by condominium buildings. But what's less obvious is that the people who tend to mind the most–the ones who scrawl "condoburg" on the stairs leading up from the Bedford Avenue subway stop–are statistically likely to move away within a few years. The longtime residents of the neighborhood, the ones who have spent a lifetime cut off from the tantalizingly proximate water, are more likely to be interested in the prospect of thirty acres of waterfront park than they are in whether or not a building turns up nearby.
In this sense, for Mr. Yassky–who compiled a progressive record as an aide to Charles Schumer and then as a council member; who won the wholehearted endorsement of The New York Times before losing, possibly in elective-political-career-ending fashion, to John Liu in his bid for comptroller–his public legacy hangs on what happens to these spaces.

The rezoning has very conspicuously changed the neighborhood, and since the real estate market is not what it was, the condo buildings have come to represent something other than progress. Greenpoint and Williamsburg have, according to the Daily News, 80 stalled construction sites. Some streets are, for blocks, lined with plywood fences hiding empty lots.

Just north of the Astroturf field is a large grey and blue warehouse owned by a company called City Storage, which houses documents for law firms and the courts and the city and other organizations. That warehouse has been there awhile. The warehouse just north of it, similar but much larger, was built within the last three or four years, after the plan for the park was public.

"[The owner's] story would be, you know, 'I have a booming business and I can fill this up,'" Yassky said with a small sigh. "A skeptical person would say—well, and part of that would be–if the city was going to take this by eminent domain, which is what the original plan called for, then having the two buildings on it would let him argue that it was much more valuable and they had to pay him a lot more for it."