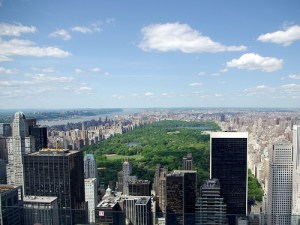 About a week before Election Day, with little fanfare, the Bloomberg Administration announced its one hundredth zoning change since the mayor came into office in 2002. In New York City, zoning is one of the most important regulatory tools available to government in its efforts to enhance sustainability and the quality of life available for the city's residents, workers and tourists. The Bloomberg Administration, under the leadership of City Planning Commissioner Amanda Burden, has had a stunning degree of success in putting into place an intelligent and far-sighted plan to govern the future development of the city
In the past fifty years, New York City has been a city transformed. Where this was once a manufacturing hub with a range of factories located throughout Manhattan and parts of Brooklyn, Queens and the Bronx, today it is a thriving post-industrial city. The docks on the west side of Manhattan have been replaced by containerized port facilities on the Jersey side of the river. In West Harlem, a vertical auto factory that once manufactured Studebaker cars now houses the offices of Columbia University's human resources, finance and information technology staff.
New York's land use plans have been adjusted to fit the city that we have become. Since we no longer do much manufacturing here, what kind of work do we do in New York City? According to the Bureau of Labor Statistics, in September 2009 nearly 3,700,000 people in New York were employed. Only 200,000 of those jobs were in manufacturing and construction. We have about 725,000 people working in education and health care, about a half a million in trade, transportation and utilities, and 580,000 jobs in professional and business services. About 560,000 New Yorkers work in government, 430,000 have jobs in the finance industry and 311,000 work in leisure and hospitality businesses. New Yorkers think, teach, design and do things, but for the most part we no longer make things. Although the Meatpacking District no longer packs much meat, you can eat plenty of meat in the District's fancy restaurants. The High Line doesn't move freight anymore, but it does provide breathtaking views of the post-industrial cityscape. The physical fabric of the city has adapted itself to a new economy, and one of the Bloomberg Administration's lasting accomplishments will be its effort to steer the city's development patterns with their new zoning rules.
What have these rules actually done? According the Mayor's press release:
"City Planning's 100 re-zonings have created a blueprint for sustainable development. Together, they offer new housing and job opportunities near transit hubs while maintaining the diverse character of New York City's many residential neighborhoods by updating decades-old zoning to protect the scale of lower density and auto-dependent neighborhoods… Approximately 2.1 million people live in areas touched by re-zonings."
Developers sometimes complain about Commissioner Burden's "intrusive" involvement in their development projects, and a fair amount of public attention has been devoted to her decisions to reduce the size of some building projects. Still, I think the most important impact of her work has been to increase population density in areas convenient to mass transit and preserve low density neighborhoods in the outer boroughs.
New York is a city of often startlingly diverse neighborhoods. Manhattanites may be surprised to learn what outer-borough folks rarely forget: that most of the land in New York City sits beneath single family homes. While most New Yorkers live in apartments, parts of Brooklyn, Queens, Staten Island and the Bronx are as auto-dependent and low density as much of Long Island, Westchester and New Jersey. Burden's zoning decisions discourage increased population density in the parts of New York City that are dominated by single family homes while encouraging efforts to increase density in the city's many commercial hubs located near subway stops.
In addition, the new zoning rules recognize the importance of greening our neighborhoods to improve the city's attractiveness to new residents and businesses. As Commissioner Burden notes on her agency's website :
"As a result of new zoning regulations, new developments must plant street trees to green and beautify our city as Mayor Bloomberg envisioned in PlaNYC2030. This initiative will result in as many as 10,000 street trees a year. Along with our green zoning requirements for landscaping parking lots and planting front yards, it will reduce storm water runoff, tame the urban heat island effect, and create a more pedestrian-friendly environment."
Moreover, the Commission is now working on a zoning rule that would encourage the development of neighborhood grocery stores in low income sections of the city. There are parts of New York City where it is a lot easier to find a beer that "tastes great and is less filling" than a piece of fresh fruit for your daughter's lunch bag.
When you look closely at the accomplishments of the City Planning Commission under Mayor Bloomberg and Commissioner Burden, it is easier to explain the Mayor's 70% approval rating than his meager electoral victory. Zoning reform of the type we have had in New York City these past eight years typically has a profound and long lasting impact on the physical contours of the city. There is little doubt in my mind that the impact of this visionary zoning reform will be felt in New York for decades to come. It will make the city a better place to live-especially when the economy picks up and the million new New Yorkers predicted by the City's PLANYC 2030 start to settle in. The large scale of New York City makes this city the ultimate "big tent." This place has just about everything. Riverdale, Forest Hills and Mill Basin may not look like Harlem, East New York and Times Square, but they are all neighborhoods of New York City. Mike Bloomberg and Amanda Burden deserve our praise for increasing the odds that these neighborhoods will be preserved well into the 21st century.