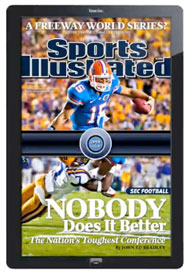 Terry McDonnell, editor of Sports Illustrated, explains how their magazine will work in tablet form in this video demo.
Users will be able to swipe across the screen to flip pages as though it's a print product. They can also create their own version of the magazine, by arranging sections and stories in their preferred order. Along with the magazine articles, there's video, bonus photo shoot shots, live sports scores and stats from favorite teams and athletes (useful for the fantasy football types!). There's also game alerts, betting games, social networking capabilities and more.
Sports Illustrated worked with David Link, the founder of Wonderfactory, to help design the product. He told The New York Times that he was not sure whether the new digital magazine would be distributed through iTunes or other e-commerce stores. But he's certainly ready for an Apple tablet, if it ever comes out (a bunch of other publishers are too!). Certainly, the iTunes-like store that John Squires of Time Inc., Hearst and Conde Nast have in mind, and is expected to be revealed early next week, will be in the running. There's also news that Hearst is working on another mag platform called Skiff, which will allow them to sell digital versions of newspapers and magazines on e-readers and other mobile devices, according to today's Wall Street Journal.
But it remains to be seen whether ad revenue and charging for these tablet mags will be successful. Perhaps numbers from GQ's iPhone app sales, slapped with a $2.99 per issue price, will be an indictation. It was just released in stores on Nov. 25.