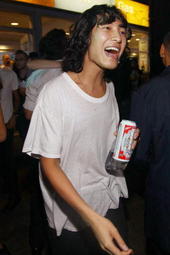 In October, The Times style section wrote about the efforts of "graying bobo" designer Eileen Fisher to reach a somewhat younger, thinner, and hipper customer.
Today, The Times Style section recounts the efforts of "humorously slutty" designer Alexander Wang to reach a somwhat less-young, less-thin, and less-hip customer.
We wonder: Would the Eileen Fisher customer and the Alexander Wang customer someday merge to be ONE AND THE SAME? A 37-year-old, say, in leather leggings and an alpaca kimono jacket, spike-heel ankle boots and a roomy linen tank, embodiment simultaneously my aspirations and my mother's?
With the help of the Style section, we dare to dream.