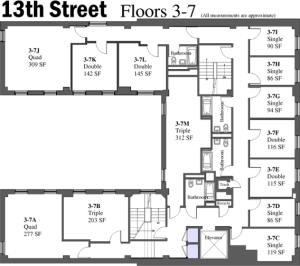 Campus Grotto, a college news site, recently compiled a list of the most expensive college dorms in America. St. John's, NYU, Fordham, New York Institute of Technology-Manhattan and Cooper Union were all in the top 20, but the New School's Eugene Lang College came in first.
Campus Grotto based its rankings on what the typical freshman could expect to pay for a double room in the 2009-10 school year. By their calculations, room and board at Eugene Lang cost $15,990 annually. A single room in a dorm with a mandatory meal plan might run more like $19,160.
Is it worth it? Is it the best college housing in America as well as the most expensive?
The Observer takes a tour.
Available exclusively to freshmen and select upperclassmen, the 13th Street Residence, at 118 West 13th Street, accommodates 175 students each year.
Located on a picturesque block in Greenwich Village—which, the New School web site notes, is "one of New York's most vibrant neighborhoods"—this seven-story residence is convenient to all the neighborhood's offerings, including Whole Foods and undergraduate classes at the New School. The brick façade features charming detail work over the second-floor windows. Ample foliage creates an urban oasis.
A university security guard provides 24-hour doorman-like service.
It is an elevator building. The lobby is spare but welcoming. A sign in craft-store letters provides bearings: "You live here," it reads. "118 West 13th Street, New York, NY 10011."
The building offers shared spaces for work and leisure activities, including an art room and a lounge. The art room has tables; the lounge has couches, a television, and a piano. The piano is new. The sun patio, ideal for smoking as well as sitting around, is currently locked for winter, but its French doors afford the onlooker a view of many empty deck chairs.
In the basement dining hall, heat lamps warm a rotating display of pizza slices, and an extensive array of cookies awaits the dessert-minded visitor. As indicated by decorative signage, residents may elect "Home Cookin'" as well as grill and delicatessen options.
The residents of 118 West 13th Street are required to purchase a meal plan, which costs costs $1700 per semester, or $3400 for the academic year. One current resident testifies that the food has "gotten a lot better."
The hallways on residential floors are unaccented by moldings, though they do feature a number of overhead pipes. The carpeting is of a low pile and stain-compatible hue suitable to institutional settings.
The 13th Street residence hall has corridor-style rooms that house between one and four students each. All bedrooms include a desk, a chair, a dresser, a wardrobe and either a lofted, bunk, or "traditional long twin" bed.
According to the web site, "Rooms with loft beds give students the flexibility to create a unique personal space."
Singles are the highest-end accommodations available, and cost $15,760 for the academic year. The traditional long twin bed snugly fills the end of a single. But all arrangements have their advantages; a double, for example, "is twice as fun when it reflects the personalities and interests of the students who live in it."
The nightly cost for a single is approximately $65.
A poster of Audrey Hepburn rendered in lenticulars accents the single displayed on the tour, along with a generously proportioned ventilation duct running across one side of the ceiling. "Do not touch or put, place, or hang anything on this entire unit," cautions a sign affixed to the duct.
Rooms do not offer residents the ability to regulate their own heat or air, but they have heat and air.
Each floor has five to thirteen bedrooms, and three to four baths.