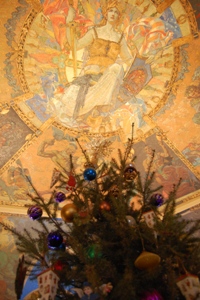 ALBANY—Here are David Paterson's holiday plans, as told to Joan Hamburg earlier this week on WOR.
"We're going to have dinner right here in the city. I'm going to go around–they have a wonderful at City Hall restaurant–Henry Meer, who owns it–for the homeless and I'm going to go," Paterson said. "They have a real toy giveaway in Harlem, the district I represented. And I'm going to a Christmas dinner for the underprivileged in Staten Island at 2 o'clock that."
"I really felt like I had to make so many tough decisions–certainly these delayed payments or cuts–that I wanted to let people know that I really do care about these services, and it's just the circumstances that we're in we have to cut them."
Paterson will spend New Year's eve at the Executive Mansion in Albany, with two friends he has known since elementary school. The next day Paterson will open the mansion to the public. This is a repeat of last year.
Hamburg asked Paterson what his New Year's wish was, starting with "a selfish wish."
"I'm trying to cut down on sugar," Paterson said. "And my wish for the state is that people in government would realize that cutting now is much less damaging than cutting later."