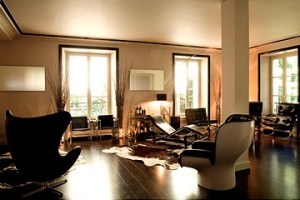 A directoire style villa turned five-suite hotel, Hotel Particulier Montmartre is accessed through a secret passage way—definitely not something you would stumble upon while out for a stroll. Inside it's an oasis of modern style and comforts that juxtapose nicely with the rather stark exterior.
You cannot go wrong with any of the suites, all have perfect views of the hidden garden, designed by Louis Banech, one of the landscape artists who helped restore the Tuileries Gardens. Sitting in the garden on a brisk fall afternoon, you'd never guess you were just steps away from the artsy and rocking night scene of Monmartre. The common rooms are flooded with light and welcoming—unlike some common areas—you'd actually want to spend time in this living room. An added treat is the secret bar… as a guest you'll have a leg up on getting a reservation.
Rates from: €390
Insider tip from Mr & Mrs Smith, one of my trusted resources:
"Your chosen artistic medium – paints, camera, or sculpting materials – the hotel is steeped in art, and some of the inspiration is bound to rub off."
Get more tips, see photos, and book the guaranteed best rate on Mr & Mrs Smith:
www.mrandmrssmith.com/hotel-particulier-montmartre
www.hotel-particulier-montmartre.com | Phone: +33 (0)1 53 41 81 40
23, Avenue Junot | Paris 75020 France
Suzanne Aaronson, Co-founder of Suzanne's Files, is our Travel Curator. Stay in-the-know on her latest finds and insider tips by signing up to receive Notes from Suzanne's Files, a free e-newsletter.