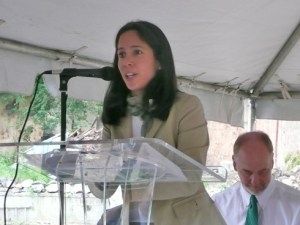 The state's housing finance chief is on her way out.
Governor Paterson's press office sent out a late Friday statement announcing that Priscilla Almodovar, CEO of the New York State Housing Finance Agency, is resigning from her job.
Ms. Almodovar came into government through the world of Eliot Spitzer, serving on the policy team of his gubernatorial campaign. A former lawyer, she's often referred to by many who have worked with her as intelligent and competent.
The Housing Finance Agency oversees hundreds of millions in financing for housing, selecting projects to receive various types of subsidies and encouraging development of affordable housing.
The statement offered no reason for the departure, though the governor's statement was laudatory.
"A trusted advisor and friend, President Almodovar has more than doubled the number of affordable housing units financed during her three years of leadership compared to the previous three years and has become a leading voice in New York State's housing community," Mr. Paterson said in the statement. "She played a critical and leading role in New York State's response to the housing crisis including negotiations that led to Starrett City remaining the country's largest affordable rental development."
ebrown@observer.com