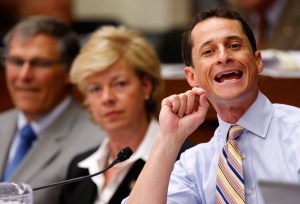 Anthony Weiner, who has made himself an outspoken and omnipresent advocate for a public option, was on Hardball yesterday, and he offered some advice to Chuck Schumer and company on how to pass the Senate bill—a bill Mr. Weiner said "gets worse every day."
"Make them filibuster. Make Joe Lieberman stand on the floor, and for hour after hour after hour, explain to the American people why he's against the public option, why he's against his own position on expanding Medicare," Mr. Weiner told Chris Matthews. "Let's make some of these guys go out there and actually filibuster and watch how their support erodes in their home constituency."
Mr. Matthews scoffed when Mr. Weiner trotted out a familiar refrain of the bill's liberal backers: "Don't let the perfect be the enemy good." The host said he often used the line on his own wife.
"The problem is that you ain't perfect or all that good," the congressman replied.
Anthony Weiner, ladies and gentlemen.