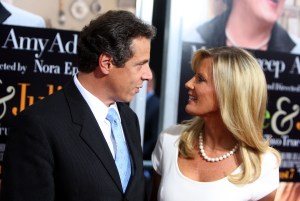 According to a story in this morning's Page Six Magazine, Attorney General Andrew Cuomo tries hard to stay out of the public eye, other than to make front-page indictments from time to time.
So Mr. Cuomo, who has been accused by David Paterson's supporters of running a shadow campaign for governor, must have been upset to see such a long, detailed feature on the newsstand this morning about his life with girlfriend Sandra Lee, a Food Network star and "weekend mommy" to his three daughters. (The Page Six Magazine website has a picture from the story, but you can't actually click on it, so the story appears to be print-only, which is one way to keep things quiet. UPDATE: The story can now be clicked.)
"Although the couple strives to avoid the limelight, keeping their relationship–for the most part–behind closed doors, 'Sandrew' is rapidly becoming the Brangelina of politics," writes Annie Karni.
Naturally, they declined to be interviewed for the story, but Page Six Magazine obtained "an unpublished interview" with Ms. Lee that addresses just this issue. It turns out, despite the portmanteau, "Sandrew" is (are?) not so different from you and me.
"I can certainly be part of the socialite group and walk those carpets every day, but I choose not to because I prefer to be grounded," Ms. Lee tells the unpublished interviewer. "You can't be at home and on the red carpet."
The article details Ms. Lee's difficult upbringing–she had a mother who disappeared for several years and a father who was arrested for domestic violence–and her eventual rise to the star of a Food Network show about how to cook with pre-packaged foods. The story's deck worries this "down-market persona" could thwart Mr. Cuomo's ambitions, but apparently it's Ms. Lee's "hard knocks" that make her relatable to the son of a governor, who was also, for a time, a member of the Kennedy clan.
"The Cuomos are a self-made family," an unnamed family friend reminds us. "Andrew's grandfather ran a grocery store."
The piece ends with a telling anecdote. Unlike her beau, who does not speak publicly about his designs on the governor's office, Ms. Lee seems more than happy to entertain questions about the governor's mansion. Asked during one TV appearance whether she'll cook once she gets there, Ms. Lee said she will, and she'll bring great garnishes.