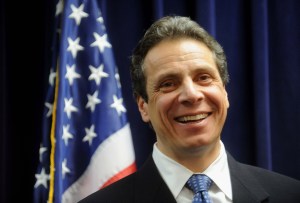 Andrew Cuomo won the first round against the United Homeless Organization today, when a Manhattan judge ruled that the purported charity can no longer set up its jugs and tables on city sidewalks, while the case is pending.
According to Mr. Cuomo's suit, the UHO was a sham: The aggressive stewards paid $15 dollars per shift for their table, and got to keep whatever additional money they could coax into their jug. The rental fee went to the two organization's two directors, who used the money to travel, buy video games, go to Weight Watchers, and pay their cable bills.
"As my office continues to aggressively monitor the activities of UHO and other charities, New Yorkers should feel even more confident in giving this holiday season," Mr. Cuomo said in a statement.
It's just one of several high-profile suits being brought by the Attorney General–who the public has rewarded with towering approval numbers. The next hearing in the case will be January, around when Mr. Cuomo might be declaring his intentions for next fall.