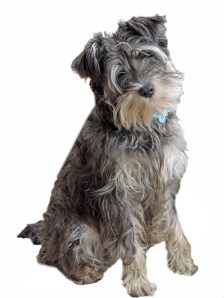 The Neue Galerie hosted a party for dogs on Thursday, Dec. 14. "No guts, no glory," as museum director Renee Price put it when we asked what possessed her. "You have to try things out!"
Ms. Price's miniature Schnauzer, Milly von Barksky, was the evening's official host. She was dressed for the occasion in an elaborate little coat modeled after Gustav Klimt's Adele Bloch-Bauer, the crown jewel of the Neue Galerie's collection.
"She's traveled nine times to Vienna with me," Ms. Price said. "She knows every cafe in Vienna, especially where they give ham to her." (Here, they were offering a special dog-cocktail of chicken stock, apple juice and club soda.)
The dog appeared calm in Ms. Price's arms, despite being surrounded by about a hundred people, many of them involved in the fashion industry, and several dozen panicked pooches.
One of the things the Neue was hoping to achieve with last week's dogstravaganza was to make people aware of the museum's exclusive line of high-end dog garments and accessories, Neue Hund. Among the wares on offer was the doggie weekender kit, a calfskin carrying case selling for $795 that includes "insect repellent, stomach settler, emergency spray" and "chamomile clay toothpaste." Also available, just in time for the holidays: a raincoat with a hood, a cape and something called a "Bohemian glass bead evening collar."
"Everything in the Neue Hund line I created because of Milly," Ms. Price said. "Milly is the model. She's the inspiration."
Halfway through the party, Guggenheim director Richard Armstrong walked in and took position by the door. He looked around the room with tension in his eyes, as if imagining in horror his museum full of dogs.