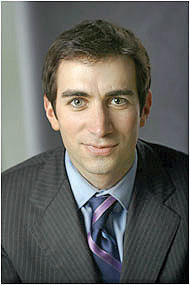 Early last month, when Times executive editor Bill Keller hosted a "Throw Stuff at Bill" chat soon after announcing 100 newsroom job cuts, he assured staffers that executives would be proceeding carefully.
"What you can do with less, is less," said Mr. Keller. "But if you are smart and careful, you can limit the harm."
In the coming weeks, executives will be looking at various ways to streamline jobs and content production. In the course of that exercise, they'll wander the seemingly endless labyrinth of NYTimes.com's more than 70 blogs in search of things to cut.
"Many of our blogs serve a valuable journalistic purpose," Mr. Keller said in his address. "Many draw a lot of traffic to the Web site."
Yet …
"If we find instances where a blog or a vertical is consuming considerable effort and expense with little reward, we're prepared to do some pruning," Mr. Keller told the newsroom.
So which blogs are most likely to get the snip-snip?
Mr. Keller and executive representatives did not return messages for comment by deadline. But according to several Observer sources, the masthead has a few blog favorites that are presumed to be safe. Andrew Ross Sorkin's DealBook, as well as Tara Parker-Pope's health blog, Well, are prized gems. Also, according to Observer sources, highly trafficked (and advertiser-friendly) blogs, including ArtsBeat, City Room, The Caucus, Bits and The Lede, can expect to be left alone.
>>Note: Get an insider's look at some of the NYTimes.com most successful blogs tomorrow on Observer.com
Some blogs—like At War, the Baghdad bureau blog that covers conflicts in Afghanistan, Pakistan and Iraq—might be not bring in massive traffic, but serve reporting purposes, said sources.
Others are just darn cheap: Wordplay, a crossword blog, fills a niche and runs on next to nothing.
And what about the other 60-odd blogs? Many readers have likely never heard of Formula One, a blog about high-class auto-racing, or Laugh Lines, in which Week in Review editors highlight the best Web humor.
Still, lack of a massive readership isn't the only criteria for cuts.
"They are looking at everything we do," Jim Schachter, editor for digital initiatives, told The Observer in an interview. "I don't think there's any sign that the blogs and verticals are going to be decimated. In those areas, across the newsroom operation, the intent is to be as surgical as possible."
Mr. Schachter spearheaded the launch of several blogs, including The Local, Media Decoder and the new Bay Area section. He is also in charge of verticals, what he calls "in-depth content sections" that cover honed subjects, like travel or business.
Each individual blog on NYTimes.com is different from the other in tone, content, mission and even style. Look at the design differences between the Lens photography blog and The Moment, T magazine blog covering luxury fashion, design and food, for example. They are meant to be distinct voices among the Times, speaking to different audiences, but does the Web site need all that shouting?

"We are and have been looking constantly at [the blogs]," he said. "But each desk needs to go back to the question: What sort of tools do you need to do the strongest reports?"
They also need to consider blogs and verticals that are doing well. "The Times has invested in certain verticals based on some projections and assumptions on their commercial salience," Mr. Schachter said. The business, technology and health sections have been specifically promising, he said.
The Moment will launch with a new design within the next several days, he told The Observer. Come and get it, luxury advertisers!
"It's all in a mode of continuous improvement," he said.
Asked directly which blogs might be vulnerable, Mr. Schachter said, "I'm not going to sort of drown any of the babies in the bathtub."
"It's not useful for The Times to think of blogs in an entirely different category from the newspaper—it's simply another platform for the exchange of information," he explained.
But could the number of blogs be cut down?
"Unquestionably," he said.
greagan@observer.com