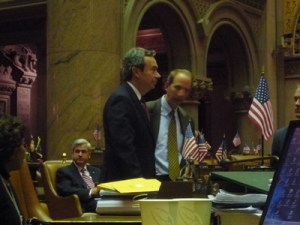 ALBANY—It was midnight in the Capitol, and according to Assembly Speaker Sheldon Silver, the bills on a deficit reduction plan were still "somewhere in the printing process."
"I mean, it's the same base bill that's been drafted and distributed for weeks. What's printing is working on another version of that," Silver said in voice that was lower than usual, swirling a cup of black coffee.
I still haven't gotten a summary of exactly what's in this deficit reduction bill. No one has on. The members have no idea what's in it, several told me as they emerged from a closed-door conference ahead of Silver. The meeting started 90 minutes behind schedule.
As they waited, I saw several members in the chamber chatting, crocheting, watching hockey games on laptops, reading Newsweek and complaining about still being in Albany.
They finally convened after midnight, and at 12:40 a.m. did re-pass a bill legalizing same-sex marriage by a vote of 86-51. (The same bill passed in May by a vote of 89-52). The plan for the rest of the night is to pass two bills containing the deficit reduction plan. Silver added that "we're getting there" on an agreement on a less-generous pension tier for new hires that could "possibly" be done tonight.
I asked Silver why his conference is opting for the all-nighter.
"It's clearly a fiscal emergency for the State of New York. As soon as we can get something done, we intend," he said, unconcerned by the fact that the less-than-reliable State Senate left the building three hours ago. "No, we think we're doing what's right. We've done it before and the Senate has eventually done it."
Senators are scheduled to conference at 9 a.m., and begin session at 10 a.m. The expectation is things will run late. It's unclear whether they will actually take up the same-sex marriage bill; State Senator Liz Krueger, a Manhattan Democrat, said it was "still under discussion."
"John Sampson decided we'd do this in the morning rather than trying to do some strange, middle-of-the-night scene," she said.