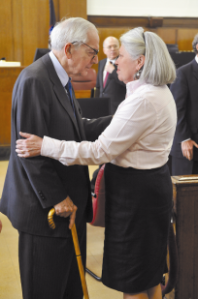 Anthony Marshall, the octogenarian son of Brooke Astor, is headed to prison for one to three years, barring a successful appeal of his conviction.
After his attorneys declined to present their own defense in his summer-long trial for allegedly defrauding his mother's estate, a late letter-writing campaign on behalf of Mr. Marshall seems to have failed. More than 75 personal friends—including Whoopi Goldberg and Al Roker—wrote to Justice A. Kirke Bartley, Jr. to attest to Mr. Marshall's character, but it appears it will not keep him out of jail.
The sentence could take an especially hefty toll on Mr. Marshall, whose trial was repeatedly delayed by health problems and whose wife, Charlene Marshall, recently told the Observer's Max Abelson she's wasn't sure her husband would survive to see his sentencing.
"Tony's in terrible shape, he's in terrible shape," she says. "To tell you the truth, I don't know if he's going to make it to Monday." She is tired and scared. "I just cry all the time. It's just a hell of a thing. It's just a hell of a thing."